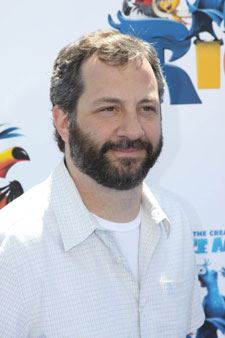 Gillian Jacobs (Community) and Paul Rust are set to star in Love, a new comedy series set up at Netflix. The original series created and written by Rust, Judd Apatow, and Lesley Arfin has received a two-season order at Netflix and will premiere in 2016. Season one will consist of 10 episodes while season two will expand to 12.
"Judd Apatow has a unique comedic voice that manages to be delightful, insightful, and shockingly frank — often at the same time," said Netflix Chief Content Officer Ted Sarandos announcing the new series. "Together with Paul and Lesley, he's bringing a whole new level of agony and ecstasy to this modern day comedy of manners."
"I am so excited to get to work with Paul and Lesley on this project," added Apatow. "Netflix has been supportive in ways I couldn't create in my wildest fever dreams."
"We at Legendary are thrilled to be working with the wonderfully talented Judd and excited to partner with the Netflix team," said Bruce Rosenblum, Legendary Television's President of Television and Digital Media. "We look forward to validating their support for this innovative and genuinely funny series."
The Plot:
Love follows Gus (Rust) and Mickey (Gillian Jacobs) as they navigate the exhilarations and humiliations of intimacy, commitment, and other things they were hoping to avoid.
-By Rebecca Murray
Follow Us On: