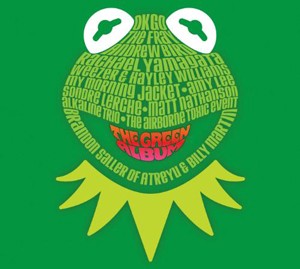 Muppets fans rejoice – 12 of our favorite Muppets tunes are back, courtesy of some popular artists. Set for release on August 23, 2011, Muppets: The Green Album features tracks by OK Go, Weezer, The Fray, Alkaline Trio, and My Morning Jacket.
Muppets: The Green Album Song List
1. A raucous rock version of "The Muppet Show Theme" performed by the award-winning quartet OK Go.
2. "The Rainbow Connection" – The Oscar-nominated ballad from "The Muppet Movie" (1979) sung by veteran rock band Weezer and Paramore vocalist Hayley Williams.
3. "Mahna Mahna" – A memorable track from "The Muppet Show," originally done by Mahna Mahna and the Snowths, here performed by multi-Grammy nominated Chicago band The Fray.
4. "Moving Right Along"- Alkaline Trio puts a punk-pop spin on this favorite from "The Muppet Movie."
5. "Our World" – Bonnaroo staples My Morning Jacket with a song from Jim Henson's TV holiday special from 1977, "Emmet Otter's Jug Band Christmas."
6. "Halfway Down the Stairs" – Former Evanescence singer Amy Lee turns in a haunting rendition of a song performed by Kermit's nephew Robin on "The Muppet Show." The track was a Top 10 hit in the UK.
7. "Mr. Bassman" – Norwegian singer/songwriter Sondre Lerche puts a funky acoustic spin on this classic from "The Muppet Show."
8. "Wishing Song" – Indie band The Airborne Toxic Event turns in a dark take on a song from "The Muppet Show" (originally sung by The Great Gonzo).
9. "Night Life" – a song from the film "The Great Muppet Caper" (1981) performed with hard rock abandon by Brandon Saller of Hollywood Records band Atreyu and Billy Martin of Good Charlotte.
10. "Bein' Green" – A mellow acoustic-flavored version of one of all-time great Muppet songs, performed by Chicago-based singer/songwriter Andrew Bird.
11. "I Hope That Something Better Comes Along" – Another winsome track from "The Muppet Movie," sung here by San Francisco singer/songwriter Matt Nathanson.
12. "I'm Going to Go Back There Someday" – Singer Rachael Yamagata closes the album with her gentle interpretation of this ballad from "The Muppet Movie."
Source: Walt Disney Records
-By Rebecca Murray
Follow Us On:
Stumble It!