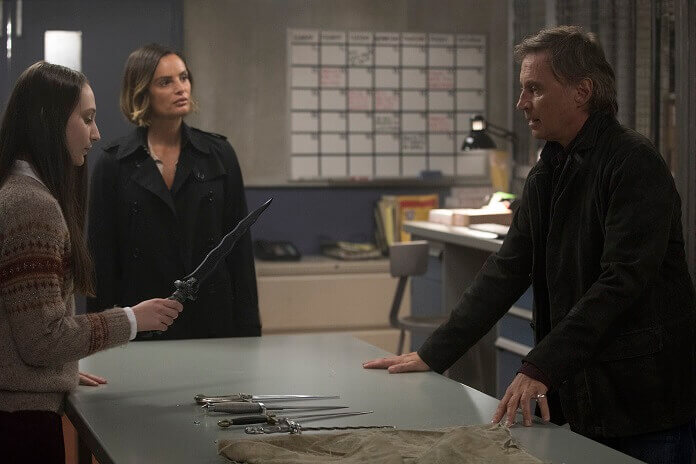 Just hours ahead of the premiere of the midseason finale, ABC has announced Once Upon a Time will be back on Friday, March 2, 2018. Season seven episode 10 airing on December 15, 2017 at 8pm ET/PT will be the final episode before the show takes its winter break.
The cast of season seven includes Lana Parrilla as Regina/Roni, Robert Carlyle as Rumpelstiltskin/Weaver, Colin O'Donoghue as Hook/Rogers, Andrew J. West as Henry Mills, Gabrielle Anwar as Lady Tremaine/Victoria Belfrey, Dania Ramirez as Cinderella/Jacinda, Alison Fernandez as Lucy, Mekia Cox as Sabine/Tiana, and Adelaide Kane as Drizella/Ivy. The guest cast includes Emma Booth as The Witch/Gothel/Eloise Gardener, and Rose Reynolds as Alice/Tilly.
Episode 10 titled "The Eighth Witch" was directed by Ralph Hemecker from a script by Jane Espenson and Jerome Schwartz. Rebecca Mader (welcome back – you've been missed!) as Zelena/Kelly, Nathan Parsons as Nick Branson, Yael Yurman as Anastasia, Sara Tomko as Tiger Lily, and Tiera Skovbye as Robin are the episode's guest stars. Adam Horowitz and Edward Kitsis created the series and executive produce along with Steve Pearlman and David H. Goodman.
"The Eighth Witch" Plot: On the winter finale episode of Once Upon a Time, when Drizella threatens the realm with a dark curse, Henry (West) and Ella (Ramirez) take extreme actions to protect Lucy (Fernandez) and the others; and Regina is forced into making an unimaginable choice. In Hyperion Heights, Roni (Parrilla) recruits Henry to travel to San Francisco to search for her sister, but when he learns Lucy has fallen unconscious, Henry rushes to be by her side. Meanwhile, Gothel (Booth) earns the trust of Anastasia, and the consequences of their budding relationship could prove to be fatal.
More on Once Upon a Time Season 7:
– Season 7 Episode 1 Recap
– Colin O'Donoghue and Robert Carlyle Interview
– Lana Parrilla and Gabrielle Anwar Interview
– Andrew J West and Dania Ramirez Interview
– Edward Kitsis, Adam Horowitz and David H Goodman Interview