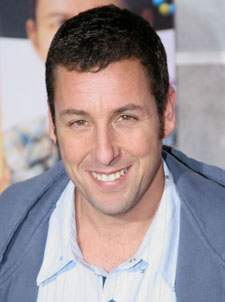 Classic video game characters PAC-MAN, Donkey Kong, Centipede®, Galaga, Frogger, Q*bert, and Space Invaders will all be featured in Sony Pictures Entertainment's upcoming action comedy Pixels. Directed by Chris Columbus, Pixels features a cast that's led by Adam Sandler and includes Kevin James, Michelle Monaghan, Peter Dinklage, Josh Gad, and Brian Cox. Tim Herlihy and Timothy Dowling wrote the script, based on the short film by Patrick Jean.
"There would be no way to make the movie without these legendary characters – they are as important to the film as the roles that Adam, Kevin, Michelle, Peter, Josh, and Brian are playing," stated director Chris Columbus. "It was a real thrill to see everything come together exactly as we envisioned it, and we're grateful to have all of these fantastic companies on board."
"These classic characters are part of the DNA of the project, so it was critical that we work together to bring them on board. Fortunately, they were all extremely receptive," explained producer Allen Covert. "We approached them with a deep love for their characters and a respect for the elements that make them unique and iconic, and we've worked with the companies to incorporate those elements into the film."
Pixels will open in theaters on May 15, 2015.
The Pixels Plot:
In Pixels, when intergalactic aliens misinterpret video-feeds of classic arcade games as a declaration of war against them, they attack the Earth, using the games as models for their various assaults. President Will Cooper (James) has to call on his childhood best friend, '80s video game champion Sam Brenner (Sandler), now a home theater installer, to lead a team of old-school arcaders (Dinklage and Gad) to defeat the aliens and save the planet. Monaghan plays the team's unique weapons specialist.
-By Rebecca Murray
Follow Us On: