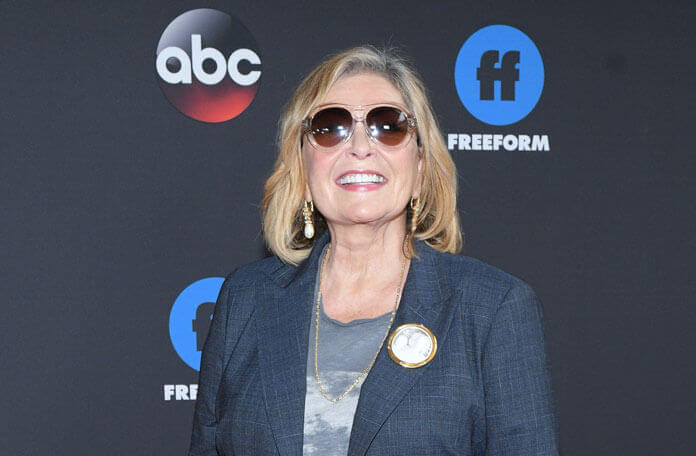 Actress Roseanne Barr has lost her television show Roseanne as a result of disgusting racist remarks she made on Twitter about former President Obama advisor Valerie Jarrett. The reaction to Barr's tweet was swift and overwhelmingly negative, and even fellow Roseanne star Sara Gilbert called Barr out for her despicable statement which Barr later attempted to explain away as a joke.
Barr, after being bombarded with negative comments and likely due to pressure from ABC, finally issued a very basic apology to everyone she offended. However, it was quickly pointed out that she's made the same type of comments before comparing black women to apes. Barr's Twitter feed is filled with conspiracy theories and attacks on those who don't support her political views. Despite those views, ABC had revived her old sitcom and even renewed it for a season two which was set to air during the 2018-2019 fall season.
The disgusting tweet that apparently finally crossed the line with ABC involved Barr describing Valerie Jarrett's looks as if "the muslim brotherhood & planet of the apes had a baby." She ultimately deleted the tweet, although at first she responded to the claims of racism with "Islam is not a race."
In a statement announcing Roseanne's cancellation, ABC Entertainment President Channing Dungey said, "Roseanne's Twitter statement is abhorrent, repugnant and inconsistent with our values, and we have decided to cancel her show."
Disney Chairman and CEO Bob Iger voiced his support for the cancellation, tweeting "There was only one thing to do here, and that was the right thing."
Prior to ABC's action, Roseanne co-star Sara Gilbert addressed Barr's comments in two tweets. "Roseanne's recent comments about Valerie Jarrett, and so much more, are abhorrent and do not reflect the beliefs of our cast and crew or anyone associated with our show. I am disappointed in her actions to say the least," tweeted Gilbert. "This is incredibly sad and difficult for all of us, as we've created a show that we believe in, are proud of, and that audiences love— one that is separate and apart from the opinions and words of one cast member."
Series consulting producer Wanda Sykes also took action before the cancellation was announced. She tweeted this message: "I will not be returning to @RoseanneOnABC."
The series, which was about to head into its 11th season in production, also starred John Goodman, Laurie Metcalf, Lecy Goranson, Michael Fishman, Emma Kenney, Ames McNamara, and Jayden Rey.