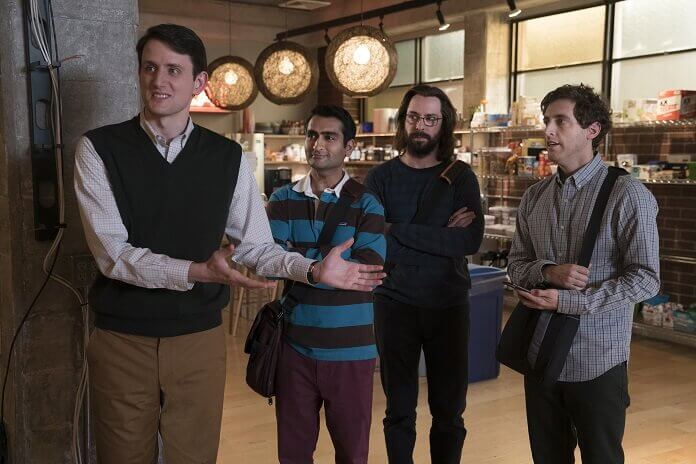 HBO's fifth season of the Emmy Award-winning half-hour comedy series Silicon Valley will premiere on Sunday, March 25, 2018 at 10pm ET/PT and will consist of eight episodes. Created by Mike Judge, John Altschuler, and Dave Krinsky, the critically acclaimed comedy picked up 10 Emmy nominations for season four, bringing its total overall to 33 nominations.
The new season will be the first without series regular TJ Miller as Erlich Bachman. Returning cast members include Thomas Middleditch (The Morning After) as Richard Hendricks, Zach Woods (The Office) as Donald 'Jared' Dunn, Kumail Nanjiani (The Big Sick) as Dinesh Chugtai, Martin Starr (Spider-Man: Homecoming) as Bertram Gilfoyle, Josh Brener (Welcome to Happiness) as Nelson 'Big Head' Bighetti, Amanda Crew (The Age of Adaline) as Monica Hall, Matt Ross (American Horror Story) as Gavin Belson, Suzanne Cryer (The Fosters) as Laurie Bream, and Jimmy O. Yang (El Camino Christmas) as Jian Yang.
The Season 5 Plot: The future is now. Pied Piper finally has enough funding for proper offices and new employees, and to bring its peer-to-peer internet to the world – but leveling up introduces a whole new class of obstacles. While Richard struggles to lead a larger team and play with the big dogs, the rest of the team adjusts to new staff, new digs and new anxieties. Meanwhile, Hooli rival Gavin Belson has returned to power, but finds the threat of Pied Piper, and its boldness, hard to shake.
The Pied Piper guys are closer to real fame and fortune than ever before, as their new decentralized internet "PiperNet" approaches its debut. But more money brings more problems. As Richard struggles with the responsibilities of being the CEO of a rapidly growing company, along with pressures from investors Monica and Laurie, Dinesh and Gilfoyle adjust to a new team, Jared works his hardest to hold everything together, Big Head continues to stumble his way into good fortune and Jian-Yang proves there's nothing he won't do to make some fast cash. Meanwhile, at Hooli, reinstated CEO Gavin's desire to stay relevant threatens to consume him as he seeks to destroy the competition.
Silicon Valley Season 5 Episode Preview:
Episode #39 (season 5, episode 1): "Grow Fast or Die Slow"
Debut: SUNDAY, MARCH 25 (10:00-10:30 p.m. ET/PT)
Now that Pied Piper has ample funding and new offices, the pressure to get things right stymies Richard (Thomas Middleditch) and forces him to grow the company in a way he hadn't planned. A picky Dinesh (Kumail Nanjiani) and Gilfoyle (Martin Starr) question their ability to make good decisions. After returning to Hooli, Gavin (Matt Ross) worries about becoming antiquated.
Written by Ron Weiner; directed by Mike Judge.

Episode #40 (season 5, episode 2): "Reorientation"
Debut: SUNDAY, APRIL 1 (10:00-10:30 p.m.)
Panicked by suddenly leading a much larger team, Richard (Thomas Middleditch) finds himself managing a number of small conflicts in his efforts to unite his new employees. Dinesh (Kumail Nanjiani) celebrates a new purchase that Gilfoyle (Martin Starr) looks to spoil. Jian-Yang (Jimmy O. Yang) goes to court. Gavin (Matt Ross) meets pushback over his signature and what it says about him.
Written by Carson Mell; directed by Mike Judge.

Episode #41 (season 5, episode 3): "Chief Operating Officer"
Debut: SUNDAY, APRIL 8 (10:00-10:30 p.m.)
Encouraged by Jared (Zach Woods) to strike up a friendship with Dana (Dan Mintz), a like-minded CEO, Richard (Thomas Middleditch) instead finds himself charmed by Dana's COO (Ben Koldyke), who challenges his loyalty to Gilfoyle (Martin Starr). Facing limited housing options thanks to his impulse purchase, Dinesh (Kumail Nanjiani) searches for a new roommate.
Written by Carrie Kemper; directed by Jamie Babbit.