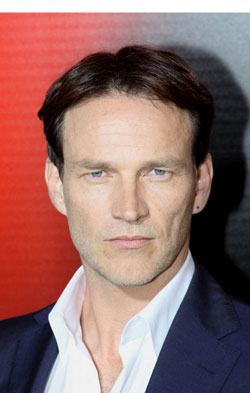 True Blood star Stephen Moyer will play Pontius Pilate and Kelsey Grammer has been cast as King Herod in the National Geographic Channel's Killing Jesus, based on the book by Bill O'Reilly. Killing Jesus will air in 2015 and will be helmed by Chris Menaul from a script by Walon Green.
"The film Killing Jesus will break new ground in chronicling the life of the most famous human being who ever lived," said author and executive producer O'Reilly. "The superb cast and script reflect much thought and research. Viewers are in for something very different and very special."
The cast also includes Haaz Sleiman as Jesus; Rufus Sewell as high priest of Jerusalem, Caiaphas; Emmanuelle Chriqui as Herodia, ex-wife of Herod II and wife of his brother Antipas, who manipulated her husband and daughter into killing John the Baptist; Eoin Macken as Antipas, the tetrarch of Galilee and Perea and co-conspirator in Jesus' death; John Rhys Davies as Annas, a high priest in Jerusalem who first questioned Jesus and his teachings; Abhin Galeya as John the Baptist, who was considered a prophet and arrested and killed by Antipas; and Stephanie Leonidas as Salome, daughter of Herod II and Herodias, who led to the demise of John the Baptist.
Additional cast members include Aneurin Barnard as James, Vernon Dobtcheff as Isaiah, Tamsin Egerton as Claudia, John Lynch as Nicodemus, Joe Doyle as Judas, and Alexis Rodney as Simon.
The Plot:
The film will chronicle the life of Jesus of Nazareth through the retelling of the intense political, social and historical conflicts during the Roman Empire that ultimately led to his death. Jesus lived at a time when the Roman Empire dominated the Western world, and he made powerful enemies while preaching a philosophy of peace and love. Today, more than 2.2 billion people follow his teachings, but the intimate historical details of the time usually remain secondary to his story.
-By Rebecca Murray
Follow Us On: