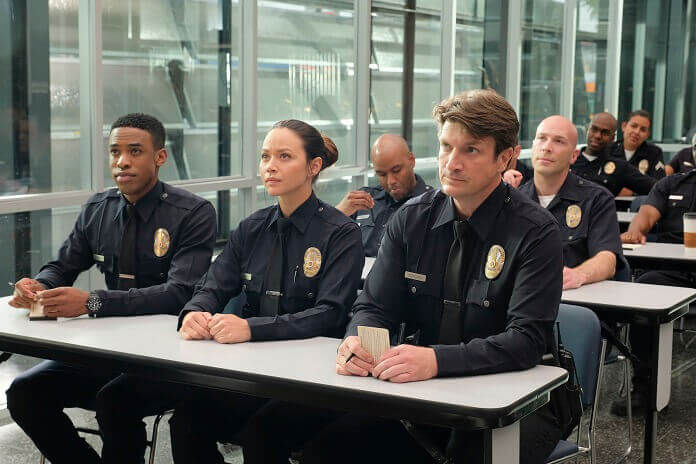 ABC's officially given the new cop drama, The Rookie, a full first season order. The news of a full season one order comes as no surprise given the fact the series has increased ABC's viewership in the Tuesdays at 10pm ET/PT time slot by 84% over last season.
The network reports The Rookie's total viewership numbers at 8.3 million versus last season's 4.5 million in the Tuesday night spot. Plus, The Rookie gained viewers among the coveted 18 to 49 year-olds group, posting a 36% increase over last year. The series premiere on October 16, 2018 brought in 9.7 million viewers which gave the network its best Tuesdays at 10pm night since March 29, 2011.
Nathan Fillion (Castle, A Series of Unfortunate Events) leads a cast that includes Alyssa Diaz as Angela Lopez, Richard T. Jones as Sergeant Wade Grey, Titus Makin as Jackson West, Mercedes Mason as Captain Zoe Andersen, Melissa O'Neil as Lucy Chen, Afton Williamson as Talia Bishop and Eric Winter as Tim Bradford. Fillion also serves as an executive producer along with Mark Gordon, Michelle Chapman, Jon Steinberg, and Bill Norcross.
Alexi Hawley created the series and is the season one writer. Hawley also executive produces.
The Season 1 Plot:
"Starting over isn't easy, especially for small-town guy John Nolan who, after a life-altering incident, is pursuing his dream of being a Los Angeles police officer. As the force's oldest rookie, he's met with skepticism from some higher-ups who see him as just a walking midlife crisis. If he can't keep up with the young cops and the criminals, he'll be risking lives including his own. But if he can use his life experience, determination and sense of humor to give him an edge, he may just become a success in this new chapter of his life."