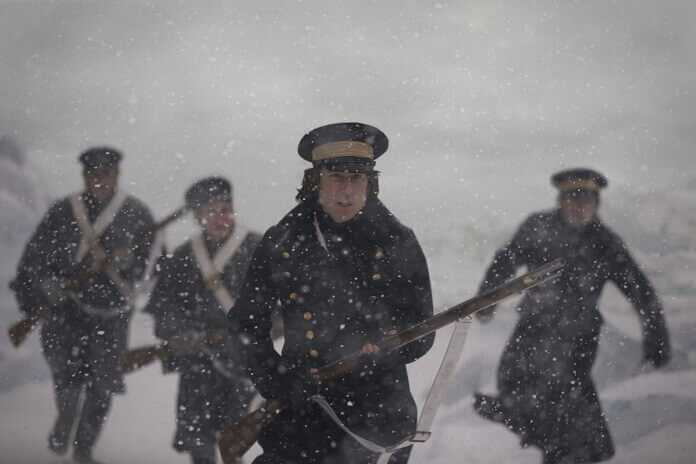 The Terror will return for a second season and will shift the story to World War II. AMC's first-ever anthology series ranks second among new cable dramas and made the list of top 10 dramas on ad-supported cable.
Season two will consist of 10 episodes, per the official renewal announcement. AMC is targeting a 2019 premiere.
Alexander Woo (True Blood) and Max Borenstein (Kong: Skull Island, Godzilla) co-created season two and will executive produce. Woo is the season's showrunner. Also executive producing are Ridley Scott, Dan Simmons, David W. Zucker, Alexandra Milchan, Scott Lambert, and Guymon Casady.
The anthology series is a Scott Free, Emjag Productions, and Entertainment 360 production.
"The Terror has given us the opportunity to take a unique approach to the anthology format. We loved the concept of beginning with an actual historical event and overlaying it with a fictional horror element, and we are immensely proud of this show's combination of cinematic scope and intimate character work. We are thrilled to announce a second season and dramatize one of the most chilling and important events of the 20th Century, guided by the vision of the gifted Alexander Woo and Max Borenstein," said David Madden, president of original programming for AMC, SundanceTV and AMC Studios.
Madded added, "Our deep appreciation goes to the persistently creative and passionate showrunning team of David Kajganich and Soo Hugh, the incomparable Ridley Scott and the rest of the producing team, and the outstanding cast led by Jared Harris for launching this concept and leaving us on the precipice of terrifying new adventures as we continue with the next chapter of The Terror."
The first season told the true story of the Royal Navy's attempt to discover the Northwest Passage in 1847. The action in season two takes place during World War II and centers "on an uncanny specter that menaces a Japanese-American community from its home in Southern California to the internment camps to the war in the Pacific."
"I'm deeply honored to be telling a story set in this extraordinary period," said Woo. "We hope to convey the abject terror of the historical experience in a way that feels modern and relevant to the present moment. And the prospect of doing so with a majority Asian and Asian-American cast is both thrilling and humbling."
"As a history-buff and genre geek (not to mention a conscious American today), it's clear that truth is always scarier than fiction," stated Borenstein. "This season of The Terror uses as its setting one of the darkest, most horrific moments in our nation's history. The Japanese-American internment is a blemish on the nation's conscience — and one with dire resonance to current events. I'm thrilled that AMC is giving us the chance to use that darkness as the inspiration for what I hope will be a trenchant, terrifying season of TV."