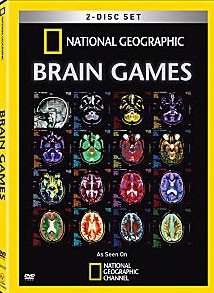 Brain Games will be returning to the National Geographic Channel lineup on Monday, January 13, 2014 at 9pm ET/PT. Jason Silva returns to host the new season which is so popular among viewers that NGC is expanding its reach, airing the show in 170 countries and 48 languages. Last season scored the highest rating of any series launch in the network's history and earned an Emmy nomination in the Outstanding Informational Series or Special category.

"Brain Games is the ABCs of perception. It's the ABCs of how your brain works," said Silva. "With brand new puzzles, brain hacks, illusions and mind-games, we're going to awaken your incredible senses and uncover the mysteries of the most complex object in the known universe, and how seeing isn't always believing."

The synopsis: "Compiling the latest research in neuroscience and psychology, Brain Games delves deeper inside your mind with a carefully crafted slate of mind-bending experiments that will keep you guessing, including black-and-white photographs that appear in color; levitating a random volunteer; and perfectly predicting not only your age, but what characteristics you find attractive."
Brain Games Season Two January 2014 Episodes:
BRAIN GAMES: In Living Color
Monday, January 13, 2014, 9:00 PM ET/PT
Color is such a big part of our world, yet we often take it for granted. Why do we associate certain colors with certain things? And do we really see every color of the rainbow, or is our world just a pigment of our imagination? We'll show you when it comes to processing colors, things aren't always as simple as black and white.

BRAIN GAMES: Laws of Attraction
Monday, January 13, 2014, 9:30 PM ET/PT (with a special Valentine's Day encore on Feb. 10 at 9:30)
Why do you like what you like? Out of the billions of people in the world — what is the hidden formula that makes you find some people especially attractive? Do you have a very specific taste or type? It may surprise you to learn that most of what you call "attractive" is just a construct created by your brain, proving that attraction, relationships, and love-at-first-sight feelings are all in your head.

BRAIN GAMES: Trust Me
Monday, January 20, 2014, 9:00 PM ET/PT
How trusting you are says a lot about you as a person, especially when it seems like everything – commercials, politics, online dating – is designed to deceive your brain. So how do you maintain a level of trust in an untrustworthy world? How do you know who to trust? This episode will show you why it pays to be more trusting of others and a little less trusting of your own brain.

BRAIN GAMES: Battle of the Ages
Monday, January 20, 2014, 9:30 PM ET/PT
It may surprise you to learn that your brain doesn't always act its age. In a series of experiments that pit younger participants against older ones, you'll see whether an old dog can still learn new tricks and discover that watching Brain Games can actually make your brain younger (really!).

BRAIN GAMES: Stress Test
Monday, January 27, 2014, 9:00PM ET/PT
In this episode, you'll see how your brain manages stress and how stress also manages you. From traffic jams to screaming babies, angry bosses to bill payments, you're surrounded by stress everyday. But stress has a purpose, and you'll discover why it's a good thing in many situations, even though it can overwhelm you. But don't let that stress you out! Through a series of interactive games and experiments, you'll discover how stress works – and how to handle it better.

Source: National Geographic Channel

-Posted by Rebecca Murray
Follow Us On:
Stumble It!