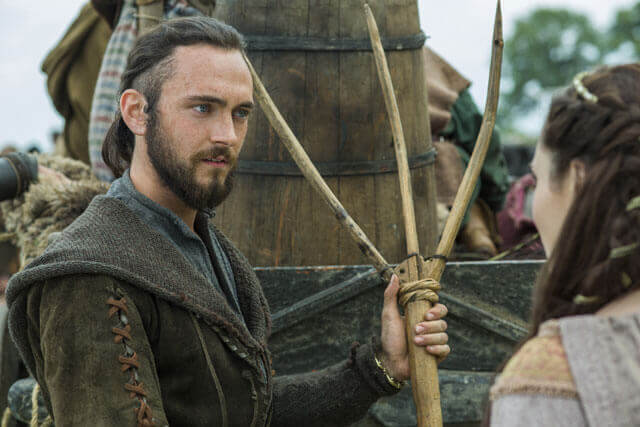 Season three of History's Vikings promises to be even more epic in scale as the action expands to include raids on Paris. Even Athelstan will be getting in on the action this season, according to George Blagden. Sitting down for a one-on-one interview at the Television Critics Association winter press event, Blagden said Vikings season three will find Athelstan once again evolving in ways viewers may not expect.
Will this season put you more into the action?
Geoerge Blagden: "You can say that, yeah. This season see Athelstan becoming a bit more confident and comfortable with where he is in his kind of inner turmoil. We open season three and you see Athelstan making some brave choices. And yeah, I guess you put it quite well. [Laughing] He'll be part of the action."
Has he come to terms with his relationship with Ragnar?
Geoerge Blagden: "Yeah. It depends on what you mean by that. I suppose at the end of season two we see him going back to Kattegat and finding a bit more comfort in this middle area between these two cultures and religions. Season three we start with Ragnar telling Athelstan that he's the only man who he can trust. So I'd say their relationship is fairly strong."
How has the change in location and the scale of the action impacted Athelstan?
Geoerge Blagden: "Season three brings bigger landscapes, different landscapes. We go to Wessex – in a different part of Wessex – and that really is how Athelstan has changed at the start of this season is Ragnar's wanting to set up this farming community in Wessex and Athelstan is a part of that. He explores a whole new area of Wessex and a different kind of way of life. So, yeah, it changes him. And Athelstan is one of the only characters on this show who is constantly changing, constantly always in flux. He's just carrying on doing that this season."
How much do you get into character as soon as you put the costume on?
Geoerge Blagden: "So much. I mean it's useful in this show for getting into character. All of the production team – costume, hair, makeup – it's so, so useful. And also the sets…the sets are so detailed. When you walk onto a set they've thought of every minute little detail and prop and item that are a part of the furniture and furnishings of that world. You walk onto the sets that Jil Turner's done in Ireland and you really feel like you're living a thousand years ago."
How far does the third season of Vikings take you?
Geoerge Blagden: "Extremely. We're seeing Athelstan in places that we've never seen him before and doing things that you would never imagine him doing. I think there are going to be a lot of raised eyebrows at Athelstan this season – I can say that."
How big of a break has this been for you as an actor?
Geoerge Blagden: "It's been an amazing opportunity for me. It was my first-ever TV show and in a way it's been very formative for me. I've learned a lot of my craft for screen acting throughout the three years so far on this show. It's been fantastic. I wouldn't be doing the new job that I'm doing now without having been a part of Vikings. That's the way in this industry. It's stepping stones and Vikings has just been the most amazing, fun, and rewarding job."
What are you doing after Vikings?
Geoerge Blagden: "I'm on a TV show called Versailles that's being done by Canal+. It's about Louis XIV and how he built Versailles, the famous palace. I play Louis XIV."
And you're able to do both shows?
Geoerge Blagden: "Yes. I don't know what the news is on the fourth season of Vikings, but I know that they're all very, very confident about this new season. Season three is going to bring levels of drama and scale and epicness that people haven't seen before. It's amazing."
Had you been to Versailles before you got that role?
Geoerge Blagden: "I had, yeah. In April me and my girlfriend were visiting like tourists for a week in Paris and we went to Versailles, completely unrelated. It was a bit weird that a couple of months later I found out that I got the role."
Is Versailles much more contained than the action of Vikings?
Geoerge Blagden: "They're extremely similar in that they're both a Canadian/Irish production with similar amounts of backing, money behind them. They're both historical dramas. It's very exciting to be a part of both."
Do you watch a lot of television?
Geoerge Blagden: "Yeah, I do. I'm watching The Walking Dead at the moment. I just got to the end of season two. It's amazing. So much fun. I loved Breaking Bad – I watched all of the seasons. I like good storytelling."
– Also of interest: Travis Fimmel and Alexander Ludwig interview / Katheryn Winnick interview / Clive Standen interview / Kevin Durand interview
– By Fred Topel
Follow Us On: