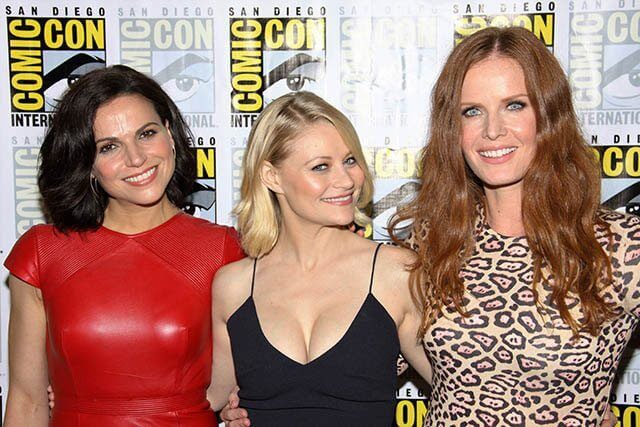 Once Upon a Time's Rebecca Mader ('Zelena') and Emilie de Ravin ('Belle') were paired up for interviews at the 2016 San Diego Comic Con where they discussed the fantasy series' upcoming sixth season. Once Upon a Time will kick off season six on September 25, 2016 with the newly freed Evil Queen (Lana Parrilla) making lives difficult for our favorite Storybrooke characters. Mader and de Ravin both feel this new season returns the show to its roots, and they're really looking forward to what the writers have in store for season six.
Emilie de Ravin and Rebecca Mader Interview:
Where are picking up with Belle since she's under the sleeping curse?
Emilie de Ravin: (Laughing) "The box."
Did that mean you got some time off?
Emilie de Ravin: "No, I didn't, actually, so obviously she's out of the box in season six. But, she does stuff in the box. She's good. She's getting cramped, but she's in good spirits."
Will we be seeing any of her dream stuff with Morpheus?
Emilie de Ravin: "There's some dream stuff. The way she is extracted and how it happens and the characters involved in that is really cool. It reveals a lot about her relationship and a lot about her past/future. I don't know how to put that."
What can we expect from Regina and Zelena's relationship moving forward?
Rebecca Mader: "We can expect a lot. There's a lot going on. All I ever wanted my whole life was a family because my adopted parents were horrible. I finally got a sister and now I've got two, so it's a lot. I've got Regina and I've got an Evil Queen and a baby – and I just killed my boyfriend. I made an appointment with Jiminy Cricket for next week; it's a three hour session. I've got a lot going on! It's a lot. There's a lot of things that Zelena has to deal with and I think it's going to be really fun as we move into season six how we explore the sister relationship and the dynamic, and the struggle between having Regina and the Evil Queen."
Will it be the most difficult season for Zelena emotionally because she's going to be dealing with those relationships?
Rebecca Mader: "I haven't asked them because I don't like to know too much what's going on, but I think killing my first love was super intense. I don't know what they're going to do with Regina that could be more painful than that because that was a really intense scene to shoot with Robin on the floor and we both lose our true loves at the same time. Well, he wasn't my true love because, let's be honest, he was full of it. I had to save my sister from him. But, to her it was her first love and her heart was shattered so I don't know if she's ever going to be able to love again and trust again. I think that will get explored at some point. Is she ever going to be able to take her walls down again?"
Will having to deal with the two sisters make Zelena torn a little bit because of her own dark side?
Rebecca Mader: "I think there's going to be a real struggle there because I don't know that Zelena's fully redeemed. It's a real push-pull. Lana (Parilla) and I were talking about that recently. Just the two of us together or the two sisters when you're playing a villain that's got a bit of a journey, it's somewhat similar to someone who's got the disease of alcoholism. You're doing really well and then you might relapse and slip a bit. That's similar to a journey as a villain. You're doing really well and then you want to rip out your heart or start a fire. 'Simmer down, love. Count to 10.' So, I think there's going to be a lot of that kind of struggle going on in season six for me."
Would you be interested to see Zelena and the Wicked Witch separated like the Evil Queen and Regina?
Rebecca Mader: "That would be wicked good, a really good idea. Yeah, I'll talk to the boys about it. That would be great."
Emilie de Ravin: "You guys could do scenes with each other."
Rebecca Mader: "All four of us in a scene! How wicked would that be?! Oh my god that would be a hot mess. I would eat popcorn and kick back and pay money to see that. That is brilliant, a really good idea. I'll have to talk to the boys about it."
In season five we got to the point in where it appears now Rumple is going to stay bad. Once Belle is awake, would you like to see her explore more of her independence in season six?
Emilie de Ravin: "Yeah, and we do. We do. It's been a long time coming. I used to…I guess I still do…I can totally understand where she's coming from. I understand that it's not that she's just accepting it just now, it's just that she's sort of able to vocalize it more and be able to maybe take action with a little more confidence, take care of herself emotionally now that she is pregnant and now that she knows that it's not really just about her anymore. She has to now take responsibility for this other little person. That's sort of making her head spin a little bit with regard to, 'Okay, I can spend my life trying to fix this person. Whether it's for me or for him it doesn't matter because I'm expecting someone else now.' It's kind of a game-changer."
What characters would you love to see come in from the Land of Untold Stories?
Rebecca Mader: "I just had an idea. I was asked that earlier and I thought how The Lion, The Witch, and The Wardrobe is my favorite book growing up so maybe like C.S. Lewis Chronicles of Narnia Land to dip into. I like all those characters."
Emilie de Ravin: "I still want Mary Poppins. I love that movie so much. Maybe Pippi Longstockings, Pollyanna…some good female roles. I mean, we have great female roles on this show. We're lucky."
How do you feel the tone of the upcoming season compares to previous seasons?
Rebecca Mader: "I feel like every season has its own tone. But I think with this season they're not going to do like two different arcs. I think it's going to be more of a throughline for the whole season. I think it's really great with the Land of Untold Stories because it opens up a whole world. People can come in and we can go out, so it's really opened up Pandora's Box which is really exciting."
Emilie de Ravin: "It brings it back to its roots more this season."
How so?
Rebecca Mader: "Everyone is having to deal with their own (business), not being introspective, not thinking about everything that's happened before up until this point and who are you now and where do we all go from here."
Emilie de Ravin: "And also the fact that they're just focusing on that physically as well. We're not going to two drastically different visual spaces."
Rebecca Mader: "We're in town. We can have Netflix and chill at night and not have to deal with it again tomorrow."
Emilie de Ravin: "Go to therapy."
Rebecca Mader: "Watch Stranger Things. Have a cup of tea and go to bed."
Emilie de Ravin: "Oh! I'm sooo obsessed."
Rebecca Mader: "I watched five episodes in two days. I can't wait to go home and watch three tomorrow!"
Emilie de Ravin: "We watched the entire thing in two days."
Rebecca Mader: Watch Stranger Things, have a cup of tea, go to bed. If you haven't seen it, you're missing out. It's a great weekend is what it is. It's your weekend gone."
We did see Zelena redeem herself last season. Are you looking forward to seeing her explore that softer side going forward?
Rebecca Mader: "Yeah. I like the fact that I'm going on a journey. I don't ever want to lose my wickedness completely. I think she should always be very, very snotty and sarcastic and dry, but then so am I. I'm definitely going to keep that aspect of her personality. But I don't know where the writers are going to take me. It was really fun to become a parent and all of a sudden have something that loves me unconditionally which Zelena has never had. And then this guy making me finally bring down my walls and love him back, and then for him only to betray me. I don't really know where Zelena is going to go from here and if she's going to be able to love and trust again, what kind of mother she's going to be. I think she's going to try to be a good one but my god, I don't know how that's going to go. I think she's going to be all right.
But it is fun to play the softer side and show the different parts of your emotion rather than just trying to strangle children and stealing babies. Which is a lot of work, too. They just write such interesting characters. Just when you think you know what's going on, you read another episode. 'Oh well, apparently I didn't.' So, I'll be interested to see where they're going to take me."
Watch the full Emilie de Ravin and Rebecca Mader interview: