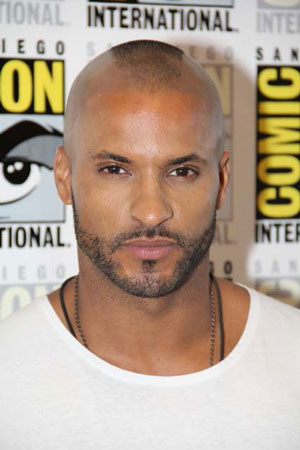 Ricky Whittle was very cautious when discussing the third season of The CW's gritty sci-fi series The 100, however he did say fans can expect to learn more about Lincoln's backstory in the upcoming season. Describing Lincoln as a hero who fights for what's good and for those who can't fight for themselves, Whittle said he's anxious for viewers to actually learn more about what drives his fan favorite character. "We know nothing about Lincoln and hopefully this season they're going to invest more into why he is the way he is. He's very much a lone figure. There's good people in the grounders but Lincoln stands out and will literally put his life on the line for what he believes is right and for Octavia, and we need to know why," explained Whittle during our roundtable interview at the 2015 San Diego Comic Con.
Whittle was able to give away clues as to what's happening with the Grounders, Sky People, and the Arkers when the show returns in 2016. "Obviously we pick up again from the season before where all is not well amongst the Tree Crew and the Sky Crew. There's obviously still going to be investment in those factions and those dynamics. We need to see what's going on with those. We're going to learn more about the politics of both groups, and other groups. We're going to invest more into the origins of what actually happened pre-apocalypse," explained Whittle.
Whittle also revealed that this new season will include even more sci-fi elements. "We're going to have our two worlds running simultaneously because we like to make sure there's something for everyone. I think it keeps a freshness to the show when you can bounce between environments, so you have Jaha and Murphy off on their travels and the AI story which is really going to blow your minds this season, I think. I'm not going to say anything because I'm so scared to spoil that. I'm not going to say a single thing but it's going to be great. It's a fascinating story," offered Whittle.
"As for Lincoln, Lincoln's obviously still not found a home, basically. He and Octavia [played by Marie Avgeropoulos] have been struggling to find a home. They're not really accepted amongst both people, however they find themselves in amongst the Arkers at Camp Jaha. So, how do they cope with that? Are they going to cope with actually being together? The whole second season they were ripped apart and now they're together. They're both kind of fighting from different angles. They're going to be hit with all sorts of challenges from the Arkers, from the politics of the Arkers," said Whittle. "Lincoln may be trying to assimilate; Octavia may be going against that. She's never been one to fit in. She's always rebelled against them because they kept her under the floorboards for half her life. Lincoln just wants peace. He wants everyone to get along as always, but he's also got to keep his lady happy. It's all happening this season."
Asked if he's enjoying the complex world of The 100, Whittle replied, "I'm enjoying it – I'm just not enjoying trying to talk about it because it confuses me! But yeah, we've got some fantastic writers and Jason Rothenberg's so creative. They just keep coming up with these mind-blowing storylines and layers. The one thing that I've said in every interview is that they give the fans what they need and not what they want, and they layer all the characters. There is no good; there is no evil. There's only perspective. Last season we had the Mountain Men perceived as these evil people trying to drain the blood of the Sky People, but they were just trying to save their own people. Depending on what side of the fence you lay on, to the Mountain Men they were heroes. They were trying to save their people and trying to get back onto earth. Obviously the way they did it was barbaric but it was a means to an end."
"You've seen the good characters as well doing bad things, the good characters taking lives for survival because that's what the show is primarily about. It's about survival and what it takes primarily to survive. What would you do? We all sit here and judge, 'Oh, that's disgusting! That's terrible,' but if we found ourselves in the situation – you and your loved one, you and your sister, you and your people against someone else that you don't quite know, who are you going to choose? We'd be quite surprised that maybe we would make some of these harsh choices that we never really thought we could make. But that's the fun of sci-fi. It's fantasy. It's not real. We kept a lot of real elements in there, but it is a fantasy. It's fun to experiment and go through these different scenarios, and it's only going to get more complicated this year. A lot more layers from a lot characters. And, a lot more layers in the world. You're going to see a lot more layers in the actual world. Again, I'm not going to go too much because 1) it's confusing and 2) I don't want to spoil it."
More on The 100 Season 3: Eliza Taylor Interview / Marie Avgeropoulos Interview
Watch the full interview with Ricky Whittle on The 100 season three: