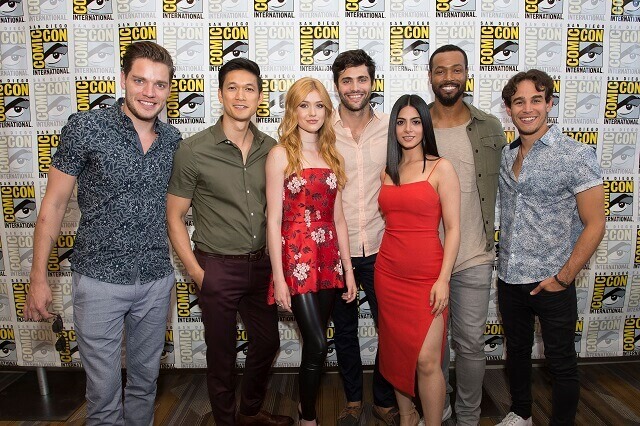 Freeform's Shadowhunters stars Dominic Sherwood ('Jace Wayland') and Katherine McNamara ('Clary Fray') were paired up for interviews at the 2017 San Diego Comic Con held July 19-23 in downtown San Diego. Season two is currently airing on Monday nights at 8pm ET/PT and with just a few episodes left, Sherwood and McNamara are excited for fans to see the finale which McNamara revealed contained one of her favorite scenes of the series thus far.
Asked if the relationship between Jace and Clary can be repaired, both were quick to reply with a definite yes. "We're working on that. It's about finding its way to that," said Sherwood.
Their powers are tied to their emotions and Sherwood believes that's also something they're working on. "I think the whole point is we want to be able to control these completely consciously without needing an emotional trigger," explained Sherwood.
"Ultimately, it's almost ironic that Sebastian is the one that tells Clary that emotions give us power and sort of opens that up for her," added McNamara. "That leads back to so many different things, and it sort of enlightens their powers for good, in a sense."
"I think it's important to realize that the Shadowhunters aren't emotionless," pointed out Sherwood. "They've just learned to stay in control of them. In fact in many ways because of relationships like parabatai, they're more emotional than human beings in many ways because they're connected in such a spiritual way. They just find a way to control them, and obviously these powers – that's a part of it, learning to control it. Finding an avenue into exhibiting these powers is what Jace is trying to do."
Sherwood and McNamara point to the season two finale as being monumental for their individual characters' development. "There's a scene in episode 20 that we're both in and it's our favorite scene. It might be my favorite scene that I've ever shot on the show. It's one of those moments where everything just kind of fell into place. We were all in the right place and had this solidarity. It was brutal and it was hard, and it took a long time but it was worth it," explained McNamara.
"Two days," said Sherwood.
"It was so worth it though. It turns out it's brutal but it's amazing. I've seen parts of it. We're very proud of it," added McNamara.
Will Tudor joined the season two cast and McNamara says they're lucky to have him on the show. "He fit in from day one. We all knew it was such a big character and we knew that we needed someone fantastic, and Will really brought it. He put so much work into it. Also, socially he's become part of the family."
Sherwood's known Will for years and was happy to have him join the Shadowhunters cast. "Six years ago we used to work together," said Sherwood. They now share a manager and Sherwood put in a good word for Will Tudor with the producers. Sherwood found out it wasn't needed as the producers already knew about Tudor and were eager for him to sign up for the role.
Watch the full Dominic Sherwood and Katherine McNamara Shadowhunters interview: