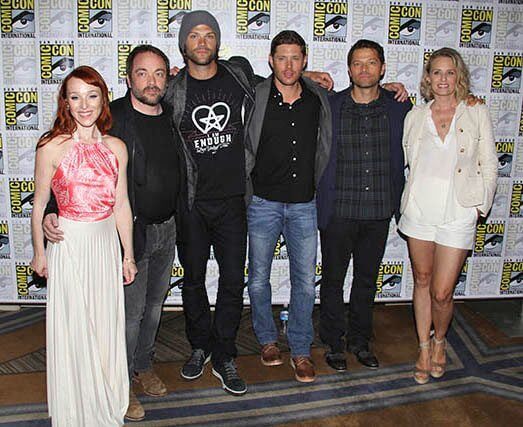 The CW's Supernatural is heading into its 12th season with Crowley (Mark Sheppard) ousted from his role as the king of Hell, itching for revenge on Lucifer (played by musician/actor Rick Springfield), and ready to explore more of his own family dynamic. During our interview at the 2016 San Diego Comic Con, Sheppard discussed what's in store, his love of the series, and the potential for a new Supernatural band.
Supernatural season 12 will premiere on Thursday, October 13, 2016 at 9pm ET/PT on The CW.
Mark Sheppard Interview:
What's it going to be like for Crowley to have both his mother and his son back?
Mark Sheppard: "Probably very annoying, from the sound of it. It usually is. It never works out well. Gavin's cooking pigeons on light bulbs. I'm not sure what's going to happen next. He's kind of wandering about, isn't he? He's still a man out of time sort of, I think. Could be interesting."
Where do we pick up with Crowley in season 12?
Mark Sheppard: "I think it's basically exploring the family dynamic again, my end of the family dynamic. I think that's very much a theme this year."
Did you want to explore that more?
Mark Sheppard: "No, hate them both. (Laughing) Not as people…well, not as much."
How do you feel Crowley's story arc will change this season?
Mark Sheppard: "This season? I might get what I want. And, I'll be dead again. It'll be over for me, as usual. I always get killed."
If Crowley got what he wanted…
Mark Sheppard: "Then what? The show would be over? I kind of got what I wanted for a bit, didn't I before Demon Dean and then I got bored with it. So it's not always good if I get what I want. I guess you're right."
No one ever really dies on this show, do they?
Mark Sheppard: "Oh, I probably will be, pissing off enough people as it goes. I actually have a long running gag with both Bob (Singer) and Jeremy (Carver). For years I would call up and the first thing I would say is, 'Am I dead yet?' And Jeremy would always say, 'Oh, I'm writing that now. Funny you should ask, I'm writing your death now.' So, it was an ongoing thing. Now Jeremy's in another show and I'm actually still going to call him up and ask him, 'Am I dead yet?'"
Have you spent seasons really thinking you're going to get killed off?
Mark Sheppard: "Yeah. I mean, there's a certain amount of redundancy to big bads, you know, in that context. So, I don't know. I always thought it would be interesting if it was a big sacrificial play. I mean, killing Crowley now doesn't make any sense at all. The first time Bob decided to kill me off, they actually called me and said, 'We're killing you off but don't worry you're back,' and there was a reason for it. Burning the bones, we've done all of that stuff. If you killed me off, what would be the point? Jumping vessels we've done. We've done Lucifer, now we're jumping vessels. You heard about Rick Springfield?"
Yes.
Mark Sheppard: "It's going to be exciting. He's actually pretty good. He's a really cool guy."
Will he be the Devil who sings?
Mark Sheppard: "Mark (Pellegrino) sings a bit. I play drums. It could be fun. We could start a band."
What would you call it?
Mark Sheppard: "Holy Hell. No, it's fun. It's really fun. I'm really excited to see where this is going. I'm proud to be a part of it. Good to see. I actually talked to Peter Roth the other day and I said, 'Wow, 12 seasons.' He goes, 'Yep, halfway there.'"
Could you imagine if 12 is actually only halfway through Supernatural?
Mark Sheppard: "No. I think Max and the rest of our kids will be working on seasons 15 onward."
What do imagine the wrap party would look like?
Mark Sheppard: "Noisy and messy. The 200th was noisy and messy, but it was good. We've done a few. But, I'm excited. 300 would be an amazing goal. The longest-running genre series in American history. I think it's incredible. it's an amazing thing to be a part of. I came on as a guest star, you know, so what the hell."
At the beginning how far did you see this going?
Mark Sheppard: "For me? A couple of episodes. I only did it because Kim (Manners, executive producer) would have wanted me to do it. I knew Kim well and he passed, and it came up. Ben (Edlund) wrote it and I was like, 'Oh, okay, this is perfect. I'm kissing a guy at the crossroads. This is going to be fun.' So it was like, 'Okay, we'll see what happens. It might be fun.' And then it became this wonderful recurring thing. And, you know, there's a lot to be said for Bob Singer having kept around this long through the iterations and changes. I think Bob has been very instrumental in making sure I'm still there, one way or another. I might not feel that way by the end of the year, but you never know.
I'm proud to be part of it. I love the guys. We're still interested in the Winchesters and that's what it's about, right? Cause if we're not, we're not watching. As much as we love Crowley and Cas and everybody else, if we're not interested in the boys, it's not really a show. Well, it could be The Crowley Show, which it is anyway!"
The spinoff series could be Killing Crowley.
Mark Sheppard: "No, it's called Oh, Crowley! – it's a comedy. The end of every scene is, 'Oh, Crowley…'"
Watch the full Mark Sheppard interview: