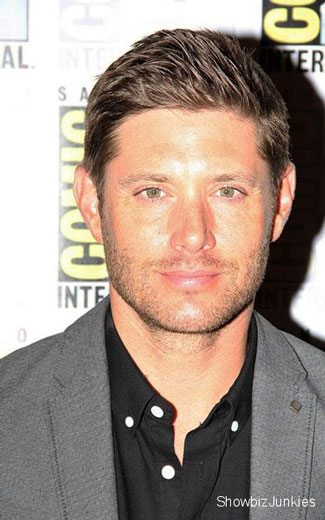 The CW's Supernatural will kick off its 12th season on Thursday, October 13, 2016 at 9pm ET/PT. The upcoming season finds Sam (Jared Padalecki) and Dean (Jensen Ackles) dealing with their mother, Mary (Samantha Smith), who has been resurrected 30 years after her murder. Sam and Dean will have to attempt to connect with a mom Sam never knew while she has to catch up on three decades of their lives as well as 30 years-worth of technological advances. During the 2016 San Diego Comic Con, Ackles provided a sneak peek into what fans can expect from season 12 and what Dean will be going through as he reconnects with Mary.
Are you looking forward to playing the relationship between Dean, Sam, and their mom?
Jensen Ackles: "I mean, yeah. Three's company, right? Here we go. It will be an interesting dynamic for sure. It will lend itself to some cool things, but I also think it's going to be very difficult because it's going to be an adjustment not only on the brothers' part but Mary as well. She's adjusting to a whole new world with modern technology and all the things that have happened over the past 30 some odd years. But she's also got to accept and deal with the fact that both of her now grown sons are hunters and have been since the day she died essentially, which was a life that she tried so desperately to get away from and protect them from. I think that's going to be difficult for her to accept and I think it's going to be difficult for the brothers to try to find a way to adapt to her presence. I think that she makes them vulnerable because now she's essentially an asset that they have to protect and if something happens to her, then that kind of opens it up for anybody to kind of take a shot at the brothers."
Will you be stepping into the director's chair again?
Jensen Ackles: "Not this year. I took a little break to spend some more time at home, but I hope to at some point."
How do you feel Dean's story arc will change this season?
Jensen Ackles: "We've still got some things on the table. There's still all the things that go bump in the night. They're still out there. There's still ghosts, there's still vampires, there's still people to save. So there will still be a lot of that. Dealing with mom's presence I think is going to add to the storyline and that arc will be interesting. Then also finding Lucifer (to be played by Rick Springfield), trying to find a way to put a cap on that. What I do like is the fact that the brothers are together and will be kind of alongside each other trying to figure this out together, as opposed to one being infected with some sort of demon blood or one's possessed by an angel – whatever it is. The brothers, Sam and Dean, are back together and they're going to try and deal with all this stuff together."
Do you feel there are two distinct relationships: one that Sam will have with Mary and one that Dean will have with Mary?
Jensen Ackles: "Possibly. I've only read a few scripts ahead and I don't know if there is a massive difference. They're all strangers…well, not the brothers. She's a stranger to them and they're strangers to her. And, I definitely think that Dean is definitely going to try and figure out how to relate to her and probably spend a little bit more time trying to navigate that than Sam. Sam's just like, 'I don't know her. I don't know who this is,' you know? So, yeah, I think you'll see a little bit more from Dean's perspective on her presence than necessarily Sam's."
Supernatural Cast Photos from Comic Con
Watch the Jensen Ackles interview: