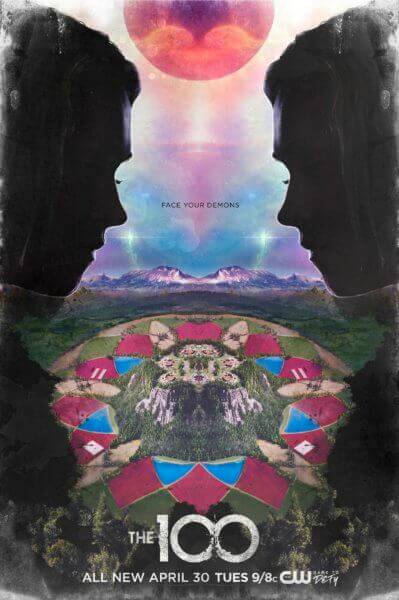 The CW's The 100 introduces two new key characters to the mix with season six. Shannon Kook actually made his debut in the season five finale, but he'll return in an expanded capacity in the sixth season. Kook plays Monty and Harper's son, Jordan, who grew up listening to his parents recall the exploits of Clarke, Bellamy, Octavia, and the other survivors.
Teen Wolf's JR Bourne joins the cast as a new character named Russell. The 100 hasn't disclosed much about Russell other than he's a peaceful, charismatic leader who the survivors will interact with on their new home planet.
Shannon Kook and JR Bourne were teamed up at the 2019 WonderCon to discuss joining the series and what fans of the post-apocalyptic action drama can expect when season six debuts on April 30, 2019.
What can you say about the season premiere?
Shannon Kook: "There's plenty more to come. I was shocked how far in they went in the first episode. I said, 'Whoa, they're doing that?'"
JR Bourne: "But I think that's indicative, too, to sort of give you a hint of what this season is. I've watched the other seasons. I was excited to join the show but it's a packed season so I think they got us in there quickly in that first episode and they show that there is this beauty and there is this serenity and there is this society that not only looks but is different than anything these guys have encountered in the past five seasons. But it's not going to be a walk in the park."
Shannon Kook: "I thought it was going to be a slow build up."
JR Bourne: "Right? Not at all."
How do they introduce you into the world of The 100?
Shannon Kook: "Basically, everyone goes into cryosleep because they're waiting for Earth's nuclear situation to die down, but that's not [a spoiler]. Earth dies, so we get sent to another solar system."
Did you know the show before?
Shannon Kook: "Well, I auditioned for Monty and Finn."
JR Bourne: "Had you watched the show prior? Had you ever seen it?"
Shannon Kook: "Then when I didn't get the role, then I fired someone and then I watched the show. Actually, I also knew, I was shooting The Conjuring and staying in the same hotel as Alycia Debnam-Carey and Thomas McDonnell. So when it came out, I wanted to watch them. And I knew Devon Bostick too, so I definitely watched the show."
Did they give you any tips about working on The 100?
Shannon Kook: "I always ask actors for tips a lot of the time, especially people who've been in the business longer than me, but actors are very reluctant to give tips. They tend to not give stuff because they think that they might be condescending or something. But when I got the role, Christopher Larkin e-mailed me. He got my e-mail from someone. I woke up and he's like, 'Welcome to the Family,' Subject. And he's like, 'Hey, if you need anything, I just want to say feel free to reach out and I'll be there for you.' I was very touched by him welcoming me in. I talked to him a bit about what he'd want for his son to carry through and we discussed a bit of his view on things because I think that would be important to Jordan."
Will we see more of his little messages?
Shannon Kook: "I guess we'll have to find out, eh? I don't know."
How long before Jordan's involved in some drama?
Shannon Kook: "I think there's drama right away for him, being right in there waking everyone up and him trying to put on a good face but there's so much pressure in that situation. He's basically responsible for mankind. His parents are a cosmic Adam and Eve. A new solar system, I'm carrying everything they've taught me and then learned along the way and I now have to impart it to the team, but the team thinks I'm like a kid to them because they say, 'Take care of our son.' I said on the panel, it's like Shakespeare, is it the fool (who thinks himself to be) wise or is the fool…?"