Syfy's popular reimagining of the Van Helsing legend returns for its third season on Sunday, October 5, 2018 at 10pm. Van Helsing stars Kelly Overton as Vanessa Van Helsing, a descendant of the vampire slayer and the one person who may be able to stop the vampires from completely annihilating all humans.
Season two revealed the blood of "the first" flows through Vanessa and her sister Scarlett's veins. When Vanessa is revived by an elder, she wakes and her eyes glow crimson. What will that mean for season three? Van Helsing star Kelly Overton discussed what's in store for the new season while at the San Diego Comic Con.
How do think the tone compares to the previous two seasons? Is it going to get darker?
Kelly Overton: "Definitely darker. I think the show thrives on being dark. There's so much to explore going darker and darker, not just as the show in general, but when we kind of delve more into different kinds of vampires. Which you see a lot more this year. We introduce vampires that my character especially gets to interact with, more with the vampires than with the humans, which was very interesting. And for my character in particular, yeah, things get dark. […] She starts really struggling with the transformation inside with the blood lust."
Did you know all along that this was going to be the end game, that your character would have that transformation?
Kelly Overton: "No. I mean, I wondered. I thought, 'Where can they take my character?' I think everybody fears being a vampire at some point. Like season one, it was like no one wants to go through all that makeup, right? And then everybody who's actually done it says it was so worth it and amazing to be able to play that kind of character. So, I always wondered how much I would start to dabble and where they would take me with that."
Does it tap into her darker side?
Kelly Overton:"Definitely, yeah."
Not that she was a light character in the first place.
Kelly Overton: "No, no. She's written pretty dark, you know? That being said, I've always tried to bring the humanity to her because it is a very dark show. It's a genre show and she's written so dark. I always wanted to seem real."
What do you want people who haven't caught on to Van Helsing to know about the series?
Kelly Overton: "I think we're doing something really cool for the genre that hasn't been done before that's worth tuning in and watching. There's a lot of content out there right now of strong female-led shows. This one in particular I think deals with some…I think it's different and interesting because it deals with a lot of pain and loss and grief and darkness. And my character, the main character, is really flawed.
I just think it's a really cool kick-ass show. And if you like to see women kick ass and you like the genre, then it's the show for you."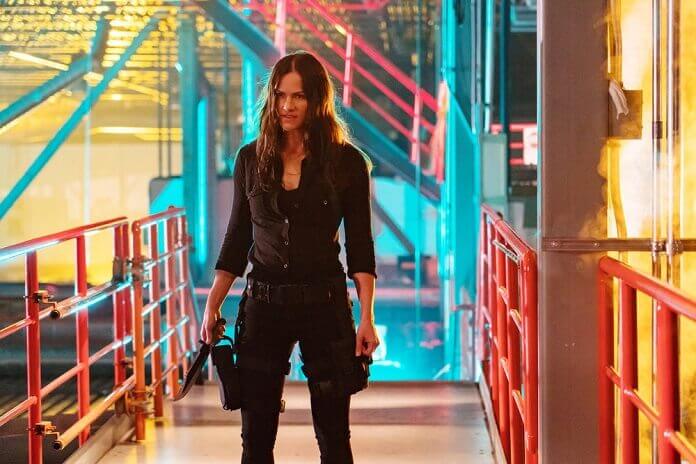 What's it going to be like for your character when she's reunited with her crew?
Kelly Overton: "She's not reunited with everybody, so I'll say that. I would love for her to be reunited with everybody! I'm like, 'Can't I go back to the hospital?' I love the hospital. But, the show is going in some really cool directions.
What's it going to be like when she's reunited with Scarlett? That relationship takes some really interesting turns. Yeah, it's trying to figure out how…I'm trying not to give away spoilers but we do end up together again for a while. We have to really face our past together."
You missed Comic Con last year and you were pregnant but you shot some scenes from season two. How was that?
Kelly Overton: "I shot a lot of scenes."
Was it the majority of the season?
Kelly Overton: "Oh yeah. When we started shooting I was five months pregnant and I shot through five, six, and seven. It was amazing. You know, I've been physically fit my whole life and so when you become pregnant, you don't have to stop doing what you normally do. So, I was able to box. I mean, safely, and still work out. I was able to do a lot of the action and fights. I obviously had to use a stunt double for some stuff and they had to get creative with my wardrobe and how they shot.
I felt actually really empowered. Being the star of a strong female-empowered show and being pregnant, I almost wish they would have written it in. I tried. I tried so hard! It would be so bad-ass having me with guns and a belly."
Who would you have wanted the father to be?
Kelly Overton: "It could have been who knows? Did they impregnate her? Is it the next savior or is it the destroyer? Do we kill it? What do we do?
Anyway, but yeah, so I was pregnant but I did do a lot. It was an amazing experience working pregnant. Challenging, no doubt. Someone mentioned how nasty we get and there's so much mud in season two, a ton of rain, cold, but all that stuff – it just works. You're in hard circumstances as the characters and it just works. And then with the death of Dylan in season two and being pregnant – that's when I had that big scream, that big grief scream when she died. I was pregnant during that and it was amazing. Being pregnant just really enriched everything for me. (Laughing) I recommend it."