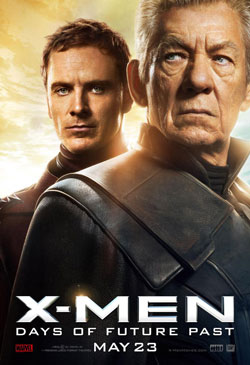 20th Century Fox just released a new character video from X-Men: Days of Future Past spotlighting Magneto (Michael Fassbender and Sir Ian McKellen). Coming to theaters on May 23, 2014, the latest X-Men movie also features Hugh Jackman, James McAvoy, Jennifer Lawrence, Halle Berry, Anna Paquin, Ellen Page, Peter Dinklage, Patrick Stewart, Evan Peters, and Omar Sy.
And in case you missed them, Fox is also showing off character videos for Wolverine, Mystique, and Quicksilver, and new clip of Wolverine meeting Beast.
The Plot:
The ultimate X-Men ensemble fights a war for the survival of the species across two time periods in X-Men: Days of Future Past. The beloved characters from the original X-Men film trilogy join forces with their younger selves from the past, X-Men: First Class, in order to change a major historical event and fight in an epic battle that could save our future.
-By Rebecca Murray
Follow Us On:
Stumble It!