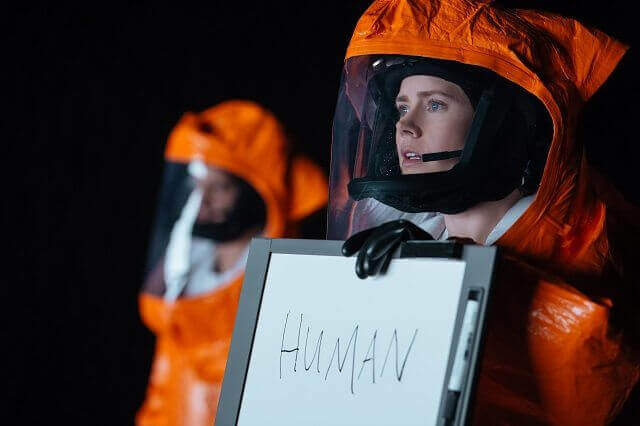 Director Denis Villeneuve's Arrival is a stunning and intelligent science fiction masterpiece. Arrival is best seen with as little pre-screening knowledge of the plot as possible, which means this extraordinary, thought-provoking, conversation-inspiring film has led to one of my shortest films review in 18 years of critiquing movies.
Paramount Pictures' Arrival is heart-wrenching yet life-affirming, ambitious on a grand scale yet intimate and personal. Amy Adams stars as Dr. Louise Banks, a professor of linguistics who is called upon by the U.S. government to attempt to communicate with one of 12 alien spacecraft that have landed on Earth. In a series of flashbacks, we learn of a devastating event in Louise's recent past and that she's now solitary and absorbed in her work. Jeremy Renner plays Ian Donnelly, a physicist who approaches the problem of communicating with an alien life form via mathematics. Together, they must establish some form of communication to determine the purpose of the aliens' visit to our planet while working against preconceived ideas and mass hysteria that could result in military action against these visitors from a distant planet.
The plot sounds so simple when squeezed into just a few sentences, but there are so many layers to the story that Arrival is anything but easily describable. Adams and Renner are outstanding as two scholars who find common ground in their approach to problem-solving after being initially overwhelmed by the ground-breaking task of learning an alien language. Adams is the heart and soul of Arrival and her character is the audiences' entry into taking this fantastic sci-fi journey and making it so very human. Renner and Adams, who previously worked together in American Hustle, are a formidable onscreen team. Their wide-eyed view of an alien presence and its implications to life on our planet allows entry into a story that's at times almost overwhelming in its presentation.
Time shifts within the story keep us constantly reassessing our understanding of what's happening on screen, and will spark discussion after the credits roll. Eric Heisserer's smart script, adapted from Ted Chiang's short story, keeps us guessing the outcome up until the final frame. Don't assume you know all the answers by the second act as Arrival patiently holds on tightly to its secrets until that perfect moment when the truth of the story is revealed.
GRADE: A
MPAA Rating: PG-13 for brief strong language
Running Time: 116 minutes
Directed By: Denis Villeneuve (Sicario, Enemy, Prisoners)
Cast: Amy Adams, Jeremy Renner, Forest Whitaker, Michael Stuhlbarg, and Tzi Ma
Release Date: November 11, 2016