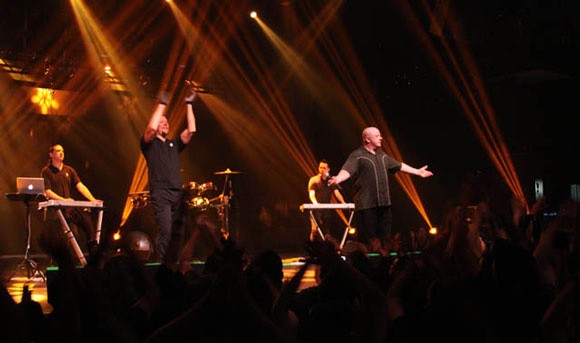 On April 3rd Industrial/EBM band VNV Nation stopped by The Mayan in downtown Los Angeles as part of their 2014 tour. Frontman Ronan Harris and drummer Mark Jackson came out on stage exuding an incredible amount of positive energy, sending out good energy to the audience and guaranteeing through their attitudes an amazing show for their fans. VNV Nation opened up with "Retaliate" from their latest release, Transnational, and followed that up with Of Faith, Power and Glory's "Sentinal." From that point on it was a mixture of songs from their albums, the earliest being Empires.
In between songs, Ronan would interact with the crowd, getting them actively involved in the concert by clapping, laughing, dancing, etc. And in addition to the show put on on stage by the band, the light show was – as has come to be expected from VNV Nation – amazing, with the displays during "Illusion" and "Nova" stand outs among the concert's visual effects. The lights faced a crystal ball above the stage, making those two songs come alive and so much more beautiful than they already are.
In total, VNV Nation played 17 tracks during the April 3 concert which included two encores. Here's the setlist:
"Retaliate"
"Sentinel"
"Chrome"
"Primary"
"Illusion"
"Everything"
"Space & Time"
"Nemesis"
"Legion"
"Off Screen"
"The Farthest Star"
"Resolution"
1st Encore:
"Homeward"
"Control"
2nd Encore:
Nova"
"Solitary"
"Perpetual"
VNV Nation's Transnational Tour is a must for anyone who likes to dance and have a great time without being forced into a mosh pit. Here are the remaining tour dates:
April 25, 2014 in Detroit, MI @ The Magic Stick
April 26, 2014 in Chicago, IL @ The Vic Theatre
April 27, 2014 in Milwaukee, WI @ Turner Hall
April 29, 2014 in Cincinnati, OH @ Taft Ballroom
April 30, 2014 in Pittzburgh, PA @ Mr. Smalls Theater
May 2, 2014 in Toronto, ON in Canada @ Phoenix Concert Theatre
May 3, 2014 in Montreal, QC in Canada @ Virgin Movile Corona Theatre
May 4, 2014 in Burlington, VT @ Higher Ground
May 6, 2014 in New Haven, CT @ Toad's Place
May 7, 2014 in Boston, MA @ Royale
May 9, 2014 in Philadelphia, PA @ Trocade ro Theatre
May 10, 2014 in New York, NY @ Bowery Ballroom (different setlists each night)
May 11, 2014 in New York, NY @ Bowery Ballroom (different setlists each night)
May 14, 2014 in Springfield, VA @ Empire
May 15, 2014 in Charlotte, NC @ Tremont Music Hall
May 16, 2014 in Atlanta, GA @ Masquerade
Further North American dates are being planned for later in the year.
– Exclusive photos of VNV Nation on stage at The Mayan
Review and photos by Richard Chavez
Follow Us On:
Stumble It!