If it weren't for comic book-inspired films, 2016's batch of theatrically released action movies would have been one of the worst in years. The genre wasn't well represented in 2016, although action films fared better overall than comedies. Our annual list of the best action movies includes the latest Star Wars film and one of Ben Affleck's 2016 films, The Accountant. Affleck's other major release, Live By Night, shouldn't be mentioned on any awards list. Disney's The Jungle Book is on the top 10 for impressively blending CGI and live action into some intense action sequences. Also making the cut was the remake of a classic Western, a thriller about the Boston Marathon bombing, and the little known true story of a WWII hero.
The following list of the Top 10 Action Movies of 2016 is in alphabetical order, however my favorites in order for the top three spots would be Deadpool, Captain America: Civil War, and Rogue One: A Star Wars Story.
2016's Best Action Films:
The Accountant (October 2016) starring Ben Affleck, Anna Kendrick, Jon Bernthal, John Lithgow, and J.K. Simmons
The Plot: Christian Wolff (Affleck) is a math savant with more affinity for numbers than people. Behind the cover of a small-town CPA office, he works as a freelance accountant for some of the world's most dangerous criminal organizations. With the Treasury Department's Crime Enforcement Division, run by Ray King (Simmons), starting to close in, Christian takes on a legitimate client: a state-of-the-art robotics company where an accounting clerk (Kendrick) has discovered a discrepancy involving millions of dollars. But as Christian uncooks the books and gets closer to the truth, it is the body count that starts to rise.
Captain America: Civil War (May 2016) starring Chris Evans, Robert Downey Jr, Anthony Mackie, Sebastian Stan, Elizabeth Olsen, Jeremy Renner, Paul Rudd, Scarlett Johansson, Don Cheadle, Paul Bettany, Chadwick Boseman, and Tom Holland
The Plot: Marvel's Captain America: Civil War finds Steve Rogers leading the newly formed team of Avengers in their continued efforts to safeguard humanity. But after another incident involving the Avengers results in collateral damage, political pressure mounts to install a system of accountability, headed by a governing body to oversee and direct the team. The new status quo fractures the Avengers, resulting in two camps—one led by Steve Rogers and his desire for the Avengers to remain free to defend humanity without government interference, and the other following Tony Stark's surprising decision to support government oversight and accountability.
Deadpool (February 2016) starring Ryan Reynolds, TJ Miller, Morena Baccarin, Brianna Hildebrand, and Gina Carano
The Plot: Based upon Marvel Comics' most unconventional anti-hero, Deadpool tells the origin story of former Special Forces operative turned mercenary Wade Wilson, who after being subjected to a rogue experiment that leaves him with accelerated healing powers, adopts the alter ego Deadpool. Armed with his new abilities and a dark, twisted sense of humor, Deadpool hunts down the man who nearly destroyed his life.
Doctor Strange (November 2016) starring Benedict Cumberbatch, Tilda Swinton, Chiwetel Ejiofor, Rachel McAdams, Benedict Wong, and Mads Mikkelsen
The Plot: This sci-fi action film follows world-famous neurosurgeon Dr. Stephen Strange, whose life changes forever after a horrific car accident robs him of the use of his hands. When traditional medicine fails him, he is forced to look for healing, and hope, in an unlikely place—a mysterious enclave known as Kamar-Taj. He quickly learns that this is not just a center for healing but also the front line of a battle against unseen dark forces bent on destroying our reality. Before long Strange—armed with newly acquired magical powers—is forced to choose whether to return to his life of fortune and status or leave it all behind to defend the world as the most powerful sorcerer in existence.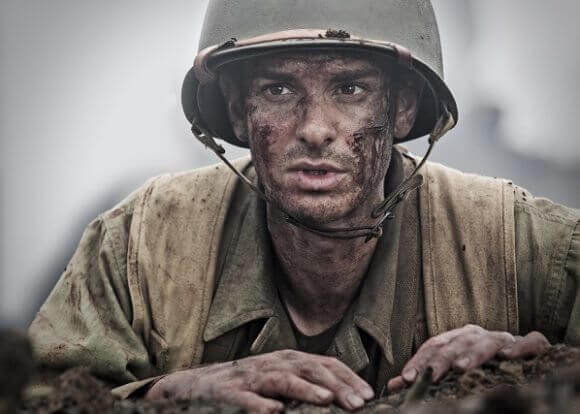 Hacksaw Ridge (November 2016) starring Andrew Garfield, Luke Bracey, Teresa Palmer, Hugo Weaving, Rachel Griffiths, and Vince Vaughn
The Plot: Hacksaw Ridge is the extraordinary true story of conscientious collaborator Desmond Doss (Garfield) who, in Okinawa during the bloodiest battle of WWII, saved 75 men without firing or carrying a gun. He believed the war was just, but killing was nevertheless wrong; he was the only American soldier in WWII to fight on the front lines without a weapon. As an army medic, Doss single-handedly evacuated the wounded from behind enemy lines, braved fire while tending to soldiers and was wounded by a grenade and hit by snipers. He was the first conscientious objector to ever earn the Congressional Medal of Honor.
The Jungle Book (April 2016) starring Neel Sethi, Idris Elba, Ben Kingsley, Bill Murray, Scarlett Johansson, Christopher Walken, and Lupita Nyong'o
The Plot: The Jungle Book is an all-new live-action epic adventure about Mowgli (Sethi), a man-cub who's been raised by a family of wolves. But Mowgli finds he is no longer welcome in the jungle when fearsome tiger Shere Khan (Elba), who bears the scars of Man, promises to eliminate what he sees as a threat. Urged to abandon the only home he's ever known, Mowgli embarks on a captivating journey of self-discovery, guided by panther-turned-stern mentor Bagheera (Kingsley), and the free-spirited bear Baloo (Murray).
Along the way, Mowgli encounters jungle creatures who don't exactly have his best interests at heart, including Kaa (Johansson), a python whose seductive voice and gaze hypnotizes the man-cub, and the smooth-talking King Louie (Walken), who tries to coerce Mowgli into giving up the secret to the elusive and deadly red flower: fire.
The Legend of Tarzan (July 2016) starring Alexander Skarsgard, Margot Robbie, Samuel L Jackson, and Christoph Waltz
The Plot: It has been years since the man once known as Tarzan (Skarsgård) left the jungles of Africa behind for a gentrified life as John Clayton III, Lord Greystoke, with his beloved wife, Jane (Robbie) at his side. Now, he has been invited back to the Congo to serve as a trade emissary of Parliament, unaware that he is a pawn in a deadly convergence of greed and revenge, masterminded by the Belgian, Captain Leon Rom (Waltz). But those behind the murderous plot have no idea what they are about to unleash.
The Magnificent Seven (September 2016) starring Chris Pratt, Denzel Washington, Martin Sensmeier, Ethan Hawke, Vincent D'Onofrio, Byung-Hun Lee, Peter Sarsgaard, and Manuel Garcia-Rulfo
The Plot: With the town of Rose Creek under the deadly control of industrialist Bartholomew Bogue (Sarsgaard), the desperate townspeople employ protection from seven outlaws, bounty hunters, gamblers and hired guns – Sam Chisolm (Washington), Josh Farraday (Pratt), Goodnight Robicheaux (Hawke), Jack Horne (D'Onofrio), Billy Rocks (Lee), Vasquez (Garcia-Rulfo), and Red Harvest (Sensmeier). As they prepare the town for the violent showdown that they know is coming, these seven mercenaries find themselves fighting for more than money.
Patriots Day (December 2016) starring Mark Wahlberg, John Goodman, Kevin Bacon, Michelle Monaghan, and J.K. Simmons
The Plot: In the aftermath of an unspeakable attack, Police Sergeant Tommy Saunders (Wahlberg) joins courageous survivors, first responders and investigators in a race against the clock to hunt down the bombers before they strike again. Weaving together the stories of Special Agent Richard DesLauriers (Bacon), Police Commissioner Ed Davis (Goodman), Sergeant Jeffrey Pugliese (Simmons) and nurse Carol Saunders (Monaghan) this visceral and unflinching chronicle captures the suspense of one of the most sophisticated manhunts in law enforcement history and celebrates the strength of the people of Boston.
Rogue One: A Star Wars Story (December 2016) starring Felicity Jones, Diego Luna, Ben Mendelsohn, Alan Tudyk, Donnie Yen, Mads Mikkelsen, Riz Ahmed, Jiang Wen, and Forest Whitaker
The Plot: From Lucasfilm comes the first of the Star Wars standalone films, Rogue One: A Star Wars Story, an all-new epic action adventure. In a time of conflict, a group of unlikely heroes band together on a mission to steal the plans to the Death Star, the Empire's ultimate weapon of destruction. This key event in the Star Wars timeline brings together ordinary people who choose to do extraordinary things, and in doing so, become part of something greater than themselves.
More Best of 2016 Lists:

The Top 20 Movies of 2016 / Best Actors / Best Actresses
Also of Interest:

2017's Top 10 Action Movies