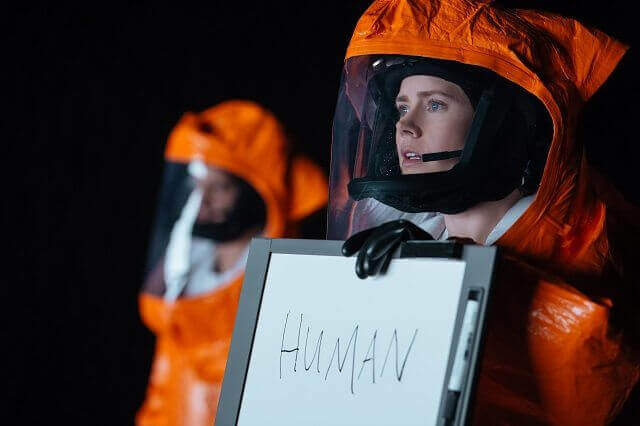 Amy Adams is earning Oscar buzz for her performance in Tom Ford's edgy dramatic film, Nocturnal Animals, however it's her work in Arrival that earned Adams the top spot on our 2016 Best Actresses list. Other actresses frequently popping up on year-end Top 10 lists who also made our Best Actresses list include Ruth Negga for her breakthrough performance in the compelling drama, Loving, and Annette Bening for leading the talented ensemble cast of 20th Century Women. Emma Stone seems to be on everyone's short list as one of the favorites to land a Best Actress Oscar nomination for singing and dancing her way through La La Land, and she took fourth place on our Best Actresses list this year.
Isabelle Huppert is number five on our list for delivering a heartbreaking, genuine, and unflinchingly honest performance in Elle, which for some inexplicable reason was snubbed by Academy members who failed to give it a spot on the short list for Oscar consideration. And snagging the number six spot was Rachel Weisz for her outstanding portrayal of a writer who takes on a Holocaust denier in court. Our 2016 Best Actresses list also includes Natalie Portman who captured one of America's most beloved First Ladies in Jackie as well as what some may consider to be a surprise appearance by Blake Lively at the number eight spot. Lively shouldered the load almost entirely by herself in the shark versus surfer thriller, The Shallows, and deserves recognition for making the film one of the year's pleasant surprises.
Finishing out the Top 10 Best Actresses list in spots nine and 10 are Rebecca Hall for her outstanding work in the dramatic film, Christine, and Jessica Chastain for making us care about a ruthless lobbyist in Miss Sloane.
2016's Top 10 Best Actresses:
Amy Adams – Arrival
The Plot: When mysterious spacecraft touch down across the globe, an elite team – lead by expert linguist Louise Banks (Adams) – are brought together to investigate. As mankind teeters on the verge of global war, Banks and the team race against time for answers – and to find them, she will take a chance that could threaten her life, and quite possibly humanity.
Ruth Negga – Loving
The Plot: From acclaimed writer/director Jeff Nichols, Loving celebrates the real-life courage and commitment of an interracial couple, Richard (Joel Edgerton) and Mildred Loving (Negga), who married and then spent the next nine years fighting for the right to live as a family in their hometown. Their civil rights case, Loving v. Virginia, went all the way to the Supreme Court, which in 1967 reaffirmed the very foundation of the right to marry – and their love story has become an inspiration to couples ever since.
Annette Bening – 20th Century Women
The Plot: Set in Santa Barbara, the film follows Dorothea Fields (Bening), a determined single mother in her mid-50s who is raising her adolescent son, Jamie (Lucas Jade Zumann, in a breakout performance) at a moment brimming with cultural change and rebellion. Dorothea enlists the help of two younger women in Jamie's upbringing — via Abbie (Greta Gerwig), a free-spirited punk artist living as a boarder in the Fields' home, and Julie (Elle Fanning), a savvy and provocative teenage neighbor.
Emma Stone – La La Land
The Plot: La La Land tells the story of Mia (Stone), an aspiring actress, and Sebastian (Ryan Gosling), a dedicated jazz musician, who are struggling to make ends meet in a city known for crushing hopes and breaking hearts. Set in modern day Los Angeles, this original musical about everyday life explores the joy and pain of pursuing your dreams.
Isabelle Huppert – Elle
The Plot: Michèle (Huppert) seems indestructible. Head of a leading video game company, she brings the same ruthless attitude to her love life as to business. Being attacked in her home by an unknown assailant changes Michèle's life forever.
When she resolutely tracks the man down, they are both drawn into a curious and thrilling game — a game that may, at any moment, spiral out of control.
Rachel Weisz – Denial (and The Lobster)
The Denial Plot: Based on the acclaimed book Denial: Holocaust History on Trial, Denial recounts Deborah E. Lipstadt's (Weisz) legal battle for historical truth against David Irving (Timothy Spall), who accused her of libel when she declared him a Holocaust denier. In the English legal system, in cases of libel, the burden of proof is on the defendant, therefore it was up to Lipstadt and her legal team, led by Richard Rampton (Tom Wilkinson), to prove the essential truth that the Holocaust occurred.
Natalie Portman – Jackie
The Plot: Jackie is a searing and intimate portrait of one of the most important and tragic moments in American history, seen through the eyes of the iconic First Lady, then Jacqueline Bouvier Kennedy (Portman). Jackie places us in her world during the days immediately following her husband's assassination. Known for her extraordinary dignity and poise, here we see a psychological portrait of the First Lady as she struggles to maintain her husband's legacy and the world of "Camelot" that they created and loved so well.
Blake Lively – The Shallows
The Plot: In the taut thriller The Shallows, when Nancy (Lively) is surfing on a secluded beach, she finds herself on the feeding ground of a great white shark. Though she is stranded only 200 yards from shore, survival proves to be the ultimate test of wills, requiring all of Nancy's ingenuity, resourcefulness, and fortitude.
Rebecca Hall – Christine
The Plot: Christine is the story of a woman who finds herself caught in the crosshairs of a spiraling personal life and career crisis. Christine (Hall), always the smartest person in the room at her local Sarasota, Florida news station, feels like she is destined for bigger things and is relentless in her pursuit of an on-air position in a larger market. As an aspiring newswoman with an eye for nuance and an interest in social justice, she finds herself constantly butting heads with her boss (Tracy Letts), who pushes for juicier stories that will drive up ratings. Plagued by self-doubt and a tumultuous home life, Christine's diminishing hope begins to rise when an on-air co-worker (Michael C. Hall) initiates a friendship which ultimately becomes yet another unrequited love. Disillusioned as her world continues to close in on her, Christine takes a dark and surprising turn.
Jessica Chastain – Miss Sloane
The Plot: In Miss Sloane, a ruthless and highly successful political strategist, Elizabeth Sloane (Chastain), exposes the cutthroat world of D.C. lobbyists working on both sides of the gun debate. New legislation requiring more stringent background checks for gun purchases is gaining traction in the Senate, and Sloane is approached to spearhead the campaign, pitting her against formidable and powerful political opponents. Deploying her notorious skills and driven by a desire to win at all costs – she jeopardizes those closest to her, and puts her own career at risk.
Honorable Mentions:
Felicity Jones in Rogue One: A Star Wars Story
Greta Gerwig in Maggie's Plan
Anya Taylor-Joy in The Witch
More Best of 2016 Lists:

The Top 20 Movies of 2016 / Top 10 Action Films / Best Actors