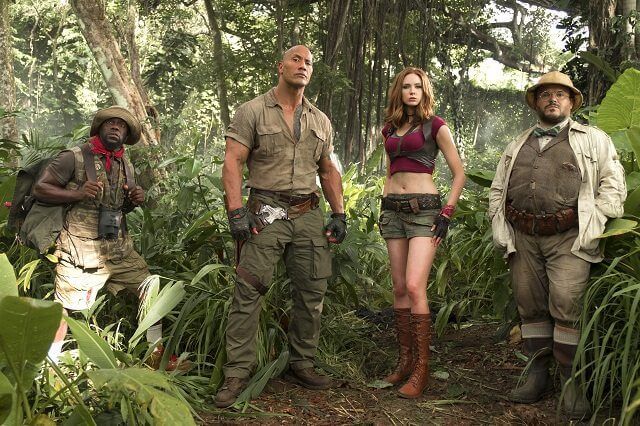 Sony closed out the first night of CinemaCon 2017 with the premiere of the Jumanji: Welcome to the Jungle trailer, with Dwayne Johnson introducing his co-stars as well as the first footage from the action comedy. The December 22, 2017 release is a sequel to 1995's Jumanji and finds four high school students discovering a video game and popping into the world of Jumanji and transforming into avatars played by Dwayne Johnson, Kevin Hart, Jack Black, and Karen Gillan. Taking the stage at CinemaCon at Caesars Palace in Las Vegas, Johnson said the original film was phenomenal and that the new film pays homage to it but has also evolved. Johnson said Jumanji: Welcome to the Jungle is different, but definitely pays tribute to the '95 movie starring Robin Williams, Kirsten Dunst, and Bonnie Hunt.
Discussing Robin Williams, Johnson told a story about meeting Williams for the first time backstage at CinemaCon years ago, describing how he fanboyed and had a difficult time playing it cool. He recalled telling Williams, "I'm my biggest fan," and Robins laughing at that and giving him a hug.
After saying the film was cast with the best movie in mind, Johnson introduced one of his co-stars as a real rock star, bringing Nick Jonas out onto the stage. Johnson had high praise for Karen Gillan who he introduced by saying she kicks ass in the film. Jack Black was the last of the Jumanji cast to take the stage, feigning outrage over Nick Jonas being called the rock star when he was sure Johnson was using that description to describe him. Black sang part of a theme song he's been working on for Jumanji: Welcome to the Jungle – which he admitted no one associated with the production asked for – and Johnson joked he had to put up with Black breaking out in song every day on the set.
Johnson prompted Black to talk about his time on the set, and Black described the shoot as pure hell. They shot in Hawaii which was pure torture with huge mosquitos, heat, and hellish terrain, and Black wanted everyone to know compared to their experience, Leonardo DiCaprio had it easy filming The Revenant in Iceland. "You try to make a movie in Hawaii!" said Black. Johnson added, "That's just one bear. We call bullsh*t on that!"
Dwayne Johnson also joked that Jack Black came up with ingenious ways to insert the 'f' word into the movie, and Black admitted he's proud you can't even hear the word the way he worked it into the dialogue.
Sony also unveiled the official plot description following the unveiling of the trailer:
"In the brand new adventure Jumanji, the tables are turned as four teenagers are sucked into the world of Jumanji. When four high-school kids discover an old video game console with a game they've never heard of – Jumanji – they are immediately drawn into the game's jungle setting, literally becoming the avatars they chose: gamer Spencer becomes a brawny adventurer (Dwayne Johnson); football jock Fridge loses (in his words) "the top two feet of his body" and becomes an Einstein (Kevin Hart); popular girl Bethany becomes a middle-aged male professor (Jack Black); and wallflower Martha becomes a badass warrior (Karen Gillan). What they discover is that you don't just play Jumanji – you must survive it. To beat the game and return to the real world, they'll have to go on the most dangerous adventure of their lives, discover what Alan Parrish left 20 years ago, and change the way they think about themselves – or they'll be stuck in the game forever…"
Jake Kasdan directed from a script by Chris McKenna, Erik Sommers, Scott Rosenberg, and Jeff Pinkner.