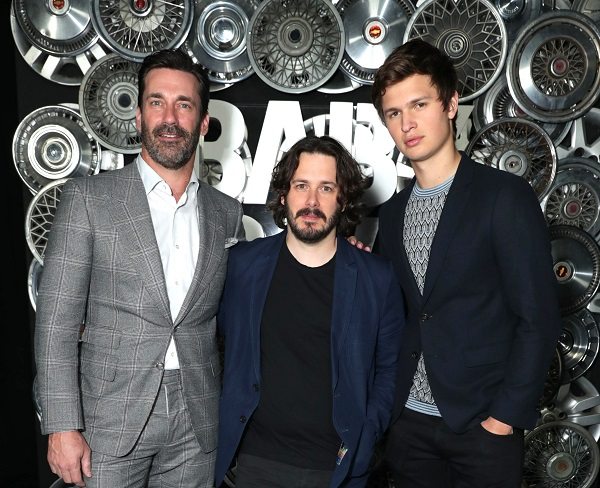 Sony's just announced they've moved up the release date of Baby Driver from August 11, 2017 to June 28th. The new release date, which gives the action thriller more time to play in theaters during the busy summer months, was in response to positive buzz following its premiere at SXSW. The film's currently sitting at 100% fresh on Rotten Tomatoes, with Variety calling it a blast and The Hollywood Reporter describing it as "a sweet and speed-crazed crime film you can dance to." The studio made the new release date announcement during their opening night presentation at the 2017 CinemaCon at Caesars Place in Las Vegas.
Baby Driver was the first film Sony featured during their presentation to members of the National Organization of Theatre Owners (NATO) on March 27, 2017. Writer/director Edgar Wright joined two of the film's stars – Ansel Elgort and Jon Hamm – on stage to discuss Baby Driver which Wright says is the result of blending two of his passions: music and action. After showing off the first full scene from the movie, Wright admitted it was a thrill to be talking about his new movie in front of theatre owners and professionals as he's a dedicated moviegoer who likes to pay to see films on their opening weekends. Wright said Baby Driver is designed to be seen "large" (on the silver screen) and loud, and he confirmed the film didn't use any CGI or green screen to achieve the heart-pounding action sequences. Baby Driver was shot on real locations with the idea of showing dream/nightmare scenarios of being in a car chase.
Wright used 35 songs throughout the film, with the cast rehearsing to the music which was played on set. Elgort's character, Baby, functions best when he's listening to music because he developed tinnitus at age seven and the music drowns out the ringing in his ears. Elgort says the soundtrack makes perfect sense even though the song choices might seem random. Baby sometimes listens to the music off of iPods found in stolen cars, and Elgort said that while he was filming he always wore his earbuds to listen to whatever Baby would be tuning into.
Jon Hamm stated the obvious when he called it very exciting to be in a car going 80 mph the wrong way on an interstate. Hamm joked that it didn't take any acting to sit in the backseat and look terrified. And Wright revealed he would strap himself to the outside of a car while it was speeding, saying that when you're directing at 80 mph, it's more one word instructions than participating in a real discussion.
The Baby Driver Plot: A talented, young getaway driver (Elgort) relies on the beat of his personal soundtrack to be the best in the game. When he meets the girl of his dreams (Lily James), Baby sees a chance to ditch his criminal life and make a clean getaway. But after being coerced into working for a crime boss (Kevin Spacey), he must face the music when a doomed heist threatens his life, love and freedom.