The summer of 2017 officially arrives in theaters with the release of the superhero sequel, Guardians of the Galaxy Vol. 2, starring Chris Pratt, Zoe Saldana, Bradley Cooper, Vin Diesel, and Dave Bautista. While Guardians is the first, it's certainly not the only sequel opening in theaters over the hot summer months. Ridley Scott returns with another Alien film, Johnny Depp's back as Captain Jack Sparrow, Pixar's hitting the racetrack again with another Cars sequel, and Michael Bay swears this fifth Transformers film will be his last. The minions return in another Despicable Me movie, the war between apes and man continues, and Colin Firth, Taron Egerton, and Mark Strong reprise their roles for the second Kingsman film.
Here's a look ahead at this summer's most anticipated releases. The list is in release date order to make it easier to plan your summer schedule.
MAY 2017
Guardians of the Galaxy Vol 2 (May 5, 2017) starring Chris Pratt, Zoe Saldana, Dave Bautista, Bradley Cooper, Vin Diesel, Michael Rooker, and Karen Gillan
The Plot: Set to the all-new sonic backdrop of Awesome Mixtape #2, Marvel Studios' Guardians of the Galaxy Vol. 2 continues the team's adventures as they traverse the outer reaches of the cosmos. The Guardians must fight to keep their newfound family together as they unravel the mystery of Peter Quill's true parentage. Old foes become new allies and fan-favorite characters from the classic comics will come to our heroes' aid as the Marvel Cinematic Universe continues to expand.
King Arthur: Legend of the Sword (May 12, 2017) starring Charlie Hunnam, Jude Law, Astrid Bergès-Frisbey, Djimon Hounsou, Aidan Gillen, and Eric Bana
The Plot: When the child Arthur's father is murdered, Vortigern (Law), Arthur's uncle, seizes the crown. Robbed of his birthright and with no idea who he truly is, Arthur (Hunnam) comes up the hard way in the back alleys of the city. But once he pulls the sword from the stone, his life is turned upside down and he is forced to acknowledge his true legacy…whether he likes it or not.
Snatched (May 12, 2017) starring Amy Poehler, Goldie Hawn, Joan Cusack, Ike Barinholtz, Wanda Sykes, and Christopher Meloni
The Plot: After her boyfriend dumps her on the eve of their exotic vacation, impetuous dreamer Emily Middleton (Schumer) persuades her ultra-cautious mother, Linda (Hawn) to travel with her to paradise. Polar opposites, Emily and Linda realize that working through their differences as mother and daughter – in unpredictable, hilarious fashion – is the only way to escape the wildly outrageous jungle adventure they have fallen into.
Alien: Covenant (May 19, 2017) starring Michael Fassbender, Noomi Rapace, Katherine Waterston, Billy Crudup, Danny McBride, Demián Bichir, Carmen Ejogo, Amy Seimetz, Jussie Smollett, Callie Hernandez, Nathaniel Dean, Alexander England, and Benjamin Rigby
The Plot: The crew of the colony ship Covenant, bound for a remote planet on the far side of the galaxy, discovers what they think is an uncharted paradise, but is actually a dark, dangerous world. When they uncover a threat beyond their imagination, they must attempt a harrowing escape.
Everything, Everything (May 19, 2017) starring Nick Robinson, Ana de la Reguera, and Anika Noni Rose
The Plot: What if you couldn't touch anything in the outside world? Never breathe in the fresh air, feel the sun warm your face…or kiss the boy next door? Everything, Everything tells the unlikely love story of Maddy, a smart, curious and imaginative 18-year-old who due to an illness cannot leave the protection of the hermetically sealed environment within her house, and Olly, the boy next door who won't let that stop them.
Maddy is desperate to experience the much more stimulating outside world, and the promise of her first romance. Gazing through windows and talking only through texts, she and Olly form a deep bond that leads them to risk everything to be together…even if it means losing everything.
Baywatch (May 25, 2017) starring Dwayne Johnson, Zac Efron, Priyanka Chopra, Alexandra Daddario, Jon Bass, Kelly Rohrbach, and Ilfenesh Hadera
The Plot: Baywatch follows devoted lifeguard Mitch Buchannon (Johnson) as he butts heads with a brash new recruit (Efron). Together, they uncover a local criminal plot that threatens the future of the Bay.
Pirates of the Caribbean: Dead Men Tell No Tales (May 26, 2017) starring Johnny Depp, Brenton Thwaites, Kaya Scodelario, Javier Bardem, Kevin R. McNally, Golshifteh Farahani, Stephen Graham, David Wenham, and Geoffrey Rush
The Plot: The rip-roaring adventure finds down-on-his-luck Captain Jack (Depp) feeling the winds of ill-fortune blowing strongly his way when deadly ghost sailors, led by the terrifying Captain Salazar (Bardem), escape from the Devil's Triangle bent on killing every pirate at sea—notably Jack. Jack's only hope of survival lies in the legendary Trident of Poseidon, but to find it he must forge an uneasy alliance with Carina Smyth (Scodelario), a brilliant and beautiful astronomer, and Henry (Thwaites), a headstrong young sailor in the Royal Navy. At the helm of the Dying Gull, his pitifully small and shabby ship, Captain Jack seeks not only to reverse his recent spate of ill fortune, but to save his very life from the most formidable and malicious foe he has ever faced.
JUNE 2017
Wonder Woman (June 2, 2017) starring Gal Gadot, Chris Pine, Connie Nielsen, David Thewlis, Lucy Davis, Danny Huston, and Robin Wright
The Plot: Before she was Wonder Woman, she was Diana, princess of the Amazons, trained to be an unconquerable warrior. Raised on a sheltered island paradise, when an American pilot crashes on their shores and tells of a massive conflict raging in the outside world, Diana leaves her home, convinced she can stop the threat. Fighting alongside man in a war to end all wars, Diana will discover her full powers…and her true destiny.
It Comes at Night (June 9, 2017) starring Joel Edgerton, Riley Keough, Christopher Abbott, Carmen Ejogo and Kelvin Harrison Jr.
The Plot: Imagine the end of the world — now imagine something worse. Award-winning filmmaker Trey Edward Shults follows his incredible debut feature Krisha with It Comes at Night, a horror film following a man (Edgerton) as he is learns that the evil stalking his family home may be only a prelude to horrors that come from within. Secure within a desolate home as an unnatural threat terrorizes the world, the tenuous domestic order he has established with his wife and son is put to the ultimate test with the arrival of a desperate young family seeking refuge. Despite the best intentions of both families, paranoia and mistrust boil over as the horrors outside creep ever-closer, awakening something hidden and monstrous within him as he learns that the protection of his family comes at the cost of his soul.
The Mummy (June 9, 2017) starring Tom Cruise, Sofia Boutella, Annabelle Wallis, Courtney B. Vance, Jake Johnson, and Russell Crowe
The Plot: Thought safely entombed in a tomb deep beneath the unforgiving desert, an ancient princess (Boutella) whose destiny was unjustly taken from her is awakened in our current day, bringing with her malevolence grown over millennia and terrors that defy human comprehension. From the sweeping sands of the Middle East through hidden labyrinths under modern-day London, The Mummy brings a surprising intensity and balance of wonder and thrills in an imaginative new take that ushers in a new world of gods and monsters.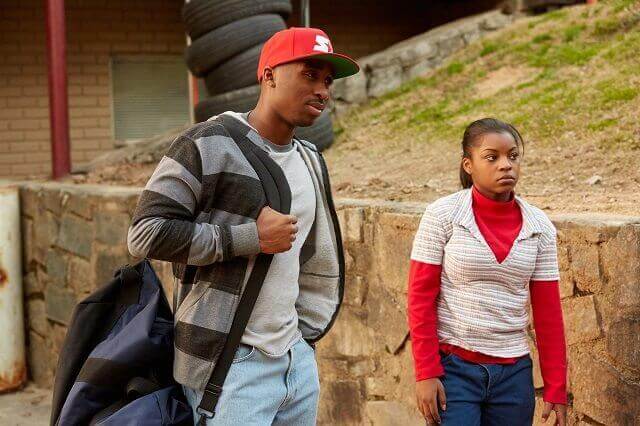 All Eyez on Me (June 16, 2017) starring Demetrius Shipp Jr, Kat Graham, Lauren Cohan, Jamal Woolard, Danai Gurira, and Hill Harper
The Plot: All Eyez on Me tells the true and untold story of prolific rapper, actor, poet and activist Tupac Shakur. The film follows Shakur from his early days in New York City to his evolution into being one of the world's most recognized and influential voices before his untimely death at the age of 25. Against all odds, Shakur's raw talent, powerful lyrics and revolutionary mind-set propelled him into becoming a cultural icon whose legacy continues to grow long after his passing.
Cars 3 (June 16, 2017) featuring the voices of Owen Wilson, Armie Hammer, and Cristela Alonzo
The Plot: Blindsided by a new generation of blazing-fast racers, the legendary Lightning McQueen (Wilson) is suddenly pushed out of the sport he loves. To get back in the game, he will need the help of an eager young race technician, Cruz Ramirez (Alonzo), with her own plan to win, plus inspiration from the late Fabulous Hudson Hornet and a few unexpected turns. Proving that #95 isn't through yet will test the heart of a champion on Piston Cup Racing's biggest stage!
Rough Night (June 16, 2017) starring Scarlett Johansson, Zoë Kravitz, Kate McKinnon, Jillian Bell, and Ilana Glazer
The Plot: In Rough Night, an edgy R-rated comedy, five best friends from college reunite 10 years later for a wild bachelorette weekend in Miami. Their hard partying takes a hilariously dark turn when they accidentally kill a male stripper. Amidst the craziness of trying to cover it up, they're ultimately brought closer together when it matters most.
Transformers: The Last Knight (June 23, 2017) starring Mark Wahlberg, Josh Duhamel, Sir Anthony Hopkins, Laura Haddock, Jerrod Carmichael, Isabela Moner, and Santiago Cabrera
The Plot: The Last Knight shatters the core myths of the Transformers franchise, and redefines what it means to be a hero. Humans and Transformers are at war, Optimus Prime is gone. The key to saving our future lies buried in the secrets of the past, in the hidden history of Transformers on Earth. Saving our world falls upon the shoulders of an unlikely alliance: Cade Yeager (Wahlberg); Bumblebee; an English Lord (Hopkins); and an Oxford Professor (Haddock). There comes a moment in everyone's life when we are called upon to make a difference. In Transformers: The Last Knight, the hunted will become heroes. Heroes will become villains. Only one world will survive: theirs, or ours.
Baby Driver (June 28, 2017) starring Ansel Elgort, Lily James, Kevin Spacey, Jon Bernthal, Eiza González, Jon Hamm, and Jamie Foxx
The Plot: A talented, young getaway driver (Elgort) relies on the beat of his personal soundtrack to be the best in the game. When he meets the girl of his dreams (James), Baby sees a chance to ditch his criminal life and make a clean getaway. But after being coerced into working for a crime boss (Spacey), he must face the music when a doomed heist threatens his life, love and freedom.
Despicable Me 3 (June 30, 2017) featuring the voices of Steve Carell, Kristen Wigg, Trey Parker, Miranda Cosgrove, Dana Gaier, Nev Scharrel, Steve Coogan, Jenny Slate, and Julie Andrews
The Plot: The team who brought you Despicable Me and the biggest animated hits of 2013 and 2015, Despicable Me 2 and Minions, returns to continue the adventures of Gru, Lucy, their adorable daughters—Margo, Edith and Agnes—and the Minions. Trey Parker joins the voice cast as the villain Balthazar Bratt, a former child star who's grown up to become obsessed with the character he played in the '80s, and proves to be Gru's most formidable nemesis to date.
The House (June 30, 2017) starring Will Ferrell, Amy Poehler, Jason Mantzoukas, Nick Kroll, Allison Tolman, Michaela Watkins, Ryan Simpkins, Jessie Ennis, Rob Huebel, Cedric Yarbrough, and Jeremy Renner
The Plot: After Scott and Kate Johansen (Ferrell and Poehler) lose their daughter Alex's college fund, they become desperate to earn it back so she can pursue her dream of attending a university. With the help of their neighbor Frank (Mantzoukas), they decide to start an illegal casino in his house.
Summer Movie Preview – July and August – >