Maurissa Tancharoen and Jed Whedon say they're happy about getting an order for two shorter seasons of Marvel's Agents of S.H.I.E.L.D. from ABC. Whedon says a 22 episode season feels like a marathon while the shorter 13 episode order is much easier on the writers, the crew, and the cast. ABC's order of a shorter seasons six and seven allowed for a break in between, a time to refresh and bring a renewed energy to the table.
Filming is currently underway on season seven, and Whedon and Tancharoen admitted they had to try and remember what's part of six and what's part of season seven while discussing the upcoming return of Agents of S.H.I.E.L.D.. "There's bound to be a spoiler that falls out of our mouths," joked Tancharoen during our roundtable interview at WonderCon.
Marvel's Agents of S.H.I.E.L.D. season six will premiere on May 10, 2019.
You split things up this season into earth crew and space crew. How much time do we spend in space compared to earth?
Jed Whedon: "I would say it's equal parts."
Maurissa Tancharoen: "Yeah, there's a nice balance between what's going on with our space team and what's going on on the ground. But it is an interesting way for us to start the season this year with our characters split up, so we'll see how that ends up."
Jed Whedon: "We wanted to try and see how it would work to have them literally on two totally different tracks. You have to wait and see, but I think it works…or maybe it doesn't. Who knows? You tell us."
Talbot at the end of season five was shot up into space. Will we see him floating around?
Maurissa Tancharoen: "Floating around forever in space?"
Jed Whedon: "You'll have to wait and see."
Now that the Marvel Netflix characters are free will that affect who you cast or the characters in the show?
Jed Whedon: "Not necessarily only because we have our own mythology. That doesn't mean there won't be crossovers with other Marvel shows in some way. There's a lot of moving parts to the Marvel apparatus and our parts are moving well and we try not to…"
Maurissa Tancharoen: "We don't want to mess it up."
Jed Whedon: "There's a lot of times where we have story where they have something else entirely coming and we have to learn about it. There's a lot of little pieces and it's sort of 3D chess sometimes. If our game's working well, we like to keep it that way."
Are you thinking about crossovers?
Jed Whedon: "Yes."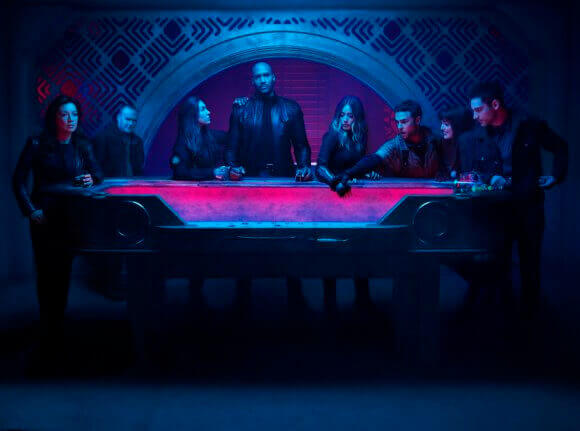 What has been the strategy to how you filled out aspects of Clark's new character?
Jed Whedon: "Well our strategy's always been never reveal anything ever. And then people who are in charge of marketing are like, 'Well, then what do we show them?' (Laughing) So, we knew he was going to be on the show and that's all we really wanted to say at first."
Maurissa Tancharoen: "Clearly from what you've seen, it's very different."
Jed Whedon: "It's a different version of Clark Gregg, so we firmly believe that any season would have to have him in it."
Maurissa Tancharoen: "Hopefully that mystery is enough to lure you in."
Are we going to see any old characters come back as instructors at the S.H.I.E.L.D. Academy or new characters as instructors?
Jed Whedon: "We might, yes. We might."
How would you describe Mack's regime? What's it going to look like? How is it different?
Jed Whedon: "Well, he's definitely trying to model it off Coulson. He's a different kind of guy. Coulson was the every man and Mack has a little bit of that. He started as an engineer – he started as a mechanic and so he's taken that baton and trying to hold on. At this point in the season, I think, he's trying as hard as he can to emulate Coulson. We'll see him slowly become his own kind of leader."
Maurissa Tancharoen: "His confidence…he's not quite there now. We'll see that over the season slowly building up and how that reflects on how he runs S.H.I.E.L.D."
Has the fact that you've been renewed for two seasons affected your writers room?
Jed Whedon: "Yes, in that we can end season six with just a massive question mark and answer it later. We don't have to tie it up in a bow and go, 'Oh, there's more,' and undo the bow."
Maurissa Tancharoen: "With a shorter order the way we've mapped it out has been similar to what we've done before, but now it's just broken down into two seasons."
Can you talk about Clark Gregg's directing style?
Jed Whedon: "He's very good. He's done it before so he's a veteran. And he knows the actors."
Maurissa Tancharoen: "Right. And he's already such a leader as a person with the entire production and the cast, so it was just a natural evolution for him to be at the helm on the set. And because they all know each other so well and have worked together so long, there was a shorthand between them. It just kind of sailed."
Jed Whedon: "And it worked out great because we knew how we were going to construct the first episode. It was fun to give him a big one with lots of facts."