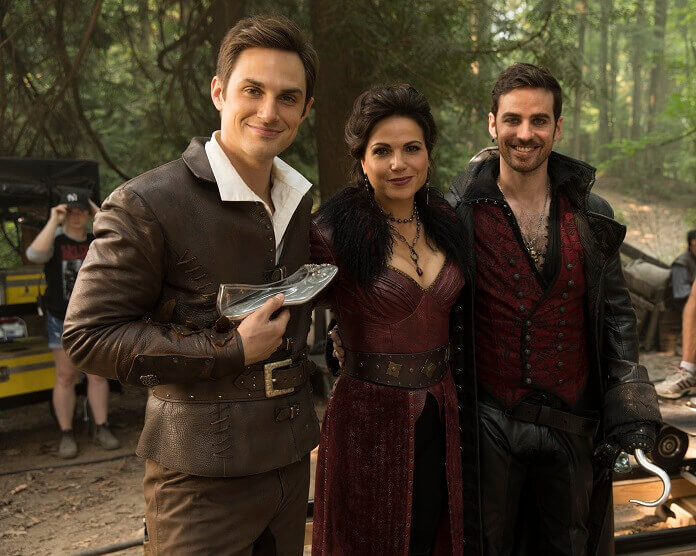 ABC's Once Upon a Time season seven episode two was filled with big reveals, including exactly what happened to Hook and Emma's happily ever after. It seems grownup Henry (Andrew J West) used a magical message in a bottle, a present Hook gave to him when he was a teenager, to try and summon Regina (Lana Parrilla), Emma (Jennifer Morrison), and Hook (Colin O'Donoghue) to save him from Lady Tremaine. The evil Lady Tremaine falsely pinned the prince's death on Henry and with his life in jeopardy, he used the magical message to call on the three people most capable of taking her on. Hook and Regina showed up in the nick of time, but Hook tried to keep Emma's whereabouts a secret.
Hook and Regina attempted to help Henry locate the owner of the glass slipper, Cinderella, but Regina's locator spell didn't work. Hook took off for the docks, believing pirates would know the lady's whereabouts. There, he ran into the sloppy, overweight, very drunk version of himself from the Wish Realm! The two Killians discussed their paths, with Drunk Killian revealing he never found his own true love. Drunk Killian knocked out hunky Killian, and then made a deal with Lady Tremaine in exchange for her transforming him into his much more handsome self.
Transformation complete, Drunk Killian gave Henry a letter he said was written by Cinderella, telling him she wasn't interested and not to contact her. Emma finally arrived and delivered the news that Henry's about to become a big brother! Drunk Killian was upset by this turn of events and knew he had to rescue his other self since he's soon to be a dad.
One thing led to another and the next big reveal is that the newly handsome, no longer stinking drunk version of Killian is actually the one who's a cop in Hyperion Heights. Our Hook was able to return to his happily ever after in Storybrooke with his pregnant wife while the other Killian will eventually team up with Henry and Regina to find his own daughter who's apparently trapped in a prison.
Season seven episode three continues with "The Garden of Forking Paths" airing Friday, October 20, 2017 at 8pm ET/PT. Episode three is written by David H. Goodman and Brigitte Hales, with Ron Underwood directing. The episode's guest stars include Mekia Cox as Sabine/Tiana, Adelaide Kane as Drizella/Ivy and Emma Booth as The Witch. The season seven cast also includes Robert Carlyle as Rumpelstiltskin/Weaver, Gabrielle Anwar as Lady Tremaine/Victoria Belfrey, Dania Ramirez as Cinderella/Jacinda, and Alison Fernandez as Lucy.
"The Garden of Forking Paths" Plot: When Cinderella finds herself staring danger in the eye, she receives help from an unlikely source. Her rescue leads to an alliance that could aid in the defeat of Lady Tremaine's rule and reveals a dark secret from Cinderella's past. In Hyperion Heights, Jacinda goes to extreme measures to stop Victoria Belfrey from destroying Lucy's beloved community garden, while Lucy tries to convince Henry that Victoria is after more than just a plot of land. Meanwhile, Victoria makes a discovery that could alter everyone's fate.
More on Once Upon a Time Season 7:
– Season 7 Episode 1 Recap
– Colin O'Donoghue and Robert Carlyle Interview
– Lana Parrilla and Gabrielle Anwar Interview
– Andrew J West and Dania Ramirez Interview
– Edward Kitsis, Adam Horowitz and David H Goodman Interview