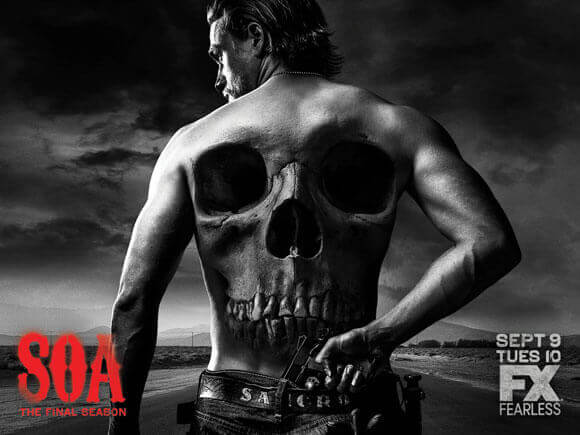 At the 2014 San Diego Comic Con Sons of Anarchy executive producer/director Paris Barclay said that with this final season of the critically acclaimed FX series the chickens will come home to roost. "All the things that we've done – most of which have been bad – over seven seasons, eventually people have to pay for them. And that happens on an individual level with many of our characters, and it happens on a sort of meta level for the show. We've gotten away with a lot of sh*t…I'm not just talking about shooting 12 Chinese people in a warehouse. I mean, we've gotten away with stuff that would probably in the real world I just don't think could go on nearly as long as this."
Barclay warned that in the final season people will have to pay, and as any Sons of Anarchy fan knows, they often pay with their lives.
During our interview at Comic Con Barclay also talked about missing actors who, unfortunately, didn't make it to the seventh and final season of the series. "I miss Maggie Siff," confessed Barclay. "Maggie Siff is such a strong presence on the show and she was so great with her kids and with us as a crew. Part of my job is I have a crew of 200 people that I have to sort of marshall to do Sons of Anarchy every episode in seven days. And so the actors' relationship to the crew, which you guys probably don't talk about too much because you're all interested in the writing, is really a big dynamic that influences us. When actors are a**holes, it becomes problematic. When actors are great and sensitive and prepared, it makes a huge difference. And there's not a day that we shot Maggie Siff when she didn't make the crew happy, where she didn't the directors happy, where she didn't make everybody involved want to be on the show.
She came and visited the set with her baby and it stopped the shoot because everybody loves her so much. It's very much like Jimmy Smits and NYPD Blue when I did that show. When Jimmy Smits left at NYPD Blue there was a hole in our heart and in the show too, I might add. But definitely a hole in our heart because the crew loved him as much as the fans did. Maggie Siff is very similar, and that loss…that scene in which she was killed which took two days to shoot was heartbreaking for all of us, heartbreaking for Katey Sagal. It was very difficult to get her to the level where she could kill Maggie Siff's character because they became really close friends."
Barclay also talked about bringing back Walton Goggins to reprise his role as Venus and he discussed more of what SoA fans can expect this final season:
-By Rebecca Murray
Follow Us On: