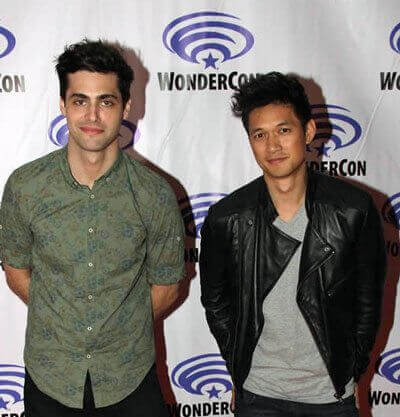 Freeform's Shadowhunters earned a second season order, weeks before season one was set to air its finale, after ranking as the #2 premiere on the network among adult viewers and consistently scoring high ratings. The series stars Katherine McNamara as Clary Fray, Dominic Sherwood as Jace Wayland, Alberto Rosende as Simon, Emeraude Toubia as Isabelle Lightwood, Matthew Daddario as Alec Lightwood, Isaiah Mustafa as Luke Garroway, and Harry Shum Jr. as Magnus Bane, and is based on Cassandra Clare's bestselling book series, The Mortal Instruments. And at the 2016 WonderCon, all of the main cast members showed up to talk about the series which will finish up season one on April 5th at 9pm ET/PT. We had the opportunity to sit down with the cast during the event, with Matthew Daddario and Harry Shum Jr teaming up to answer questions.
Matthew Daddario and Harry Shum Jr Interview:
Did you know from the first scripts that the series would catch on with fans of the books and with people who haven't read Cassandra Clare's novels?
Harry Shum Jr: "Honest answer, I don't know. I didn't know because I fell in love, I thought it was a really cool role, I thought it was a really awesome character and then I thnk it's a testament to what everyone else brought from the crew, the writers, to the other actors brought into this. AAnd also with the books and having an incredible foundation, but also you can't make an exact same thing because then it's like, why? Why not just leave the books as they are? If you're trying to put them on a different medium, you kind of have to bring a little bit of your own pizzazz or experience. So that was really sruprising to me because when you get on a show you're like, 'I hope it's good and I hope everyone does their part.' And it's been exceeding my expectations. It's been awesome."
Were you aware of the fan base and nervous at all about taking on these characters and satisfying the fans?
Matthew Daddario: "I learned sort of the day of just the level of enthusiams that exists for this show and for this series. My girlfriend actually had figured it out prior to me going to California to test. She sort of texted me afterwards and said, 'Do you have any idea what you're getting yourself into? I've been googling. It's insane! Things are going to be insane if you book this.' And I booked this and she was accurate."
Harry Shum Jr: "And then she became one of those insane fans."
Matthew Daddario: "She jumped right on board and read all the books. She tweets along with us and watches the show, and yells at me for things Alec did. I look at her and I'm like, 'Are you serious?'"
The series does have a really active social media presence. Do you worry or pay attention to that?
Harry Shum Jr: "No. I've learned from the past you can't. You know, you respond, you talk back to the fans but everyone's going to have an opinion. We live in a world right now where all of the opinions are being put into public display, you know? You've got to accept that. You've got to accept that people might love it; you've got to accept that people might hate it. You've got to accept that people might feel either way, but what's been really great to see is to see tweets or people say, 'I was so mad and I hated it and then like now I love it.'"
Matthew Daddario: "Yeah, those are the ones. Those vindicate the whole show."
Harry Shum Jr: "Yeah, you're going to feel a certain way when you have an expectation of something and then when you keep watching hopefully that changes."
How did you prep for your characters?
Matthew Daddario: "Well, in my case I decided based off of what I read about Alec I decided on who Alec was going to be and then I just sort of stuck with it. I think what's good is I'm happy with the choices I made early on because they ended up playing, in my opinion, they played well and I'm happy I didn't have to sort of change up my approach halfway through. That would have been a disaster. It was a lot of reading who he was and trying to get the sense of this young man."
Harry Shum Jr: "For me it was kind of bringing that rock star quality. This guy is a rock star, you know? Imagine if a rock star got to live 400 years and then the great things and also terrible things that they would get into but I think we room to go into the backstory. Obviously a lot of it has been written out whether it be the Bane Chronicles and also there's a lot of in between the lines that could be explored. So, for me it's what would a rock star really kind of go through. We put them on a pedestal but at the same time they're in pain. They go through hardships, they go through heartbreaks, and also they put on the heartbreaks. That was really fun to kind of dig into and see what we could bring from Magnus' perspective."
Watch the full interview with Matthew Daddario and Harry Shum Jr: