The CW's The 100 season five episode two concentrated on life inside the bunker. Octavia had her leadership tested by an open revolt and wound up slaying those who wouldn't fall in line. The revolt, which was led by Skaikru member Kara Cooper (Kyra Zagorsky), was put down by Octavia and her people, with the help of Jaha. Unfortunately, Jaha was stabbed during the uprising and sacrificed his final hours to help Octavia.
Up next, season five episode three titled "Sleeping Giants" and airing on May 8, 2018. Tim Scanlan directed from a script by Aaron Ginsburg and Wade McIntyre.
The season five cast includes Eliza Taylor as Clarke Griffin, Paige Turco as Dr. Abigail Griffin, Bob Morley as Bellamy Blake, Marie Avgeropoulos as Octavia Blake, Lindsey Morgan as Raven Reyes, Christopher Larkin as Monty Green, Henry Ian Cusick as Marcus Kane, Richard Harmon as John Murphy, Luisa d'Oliveira as Emori, Chelsey Reist as Harper, and Tasya Teles as Echo.
The "Sleeping Giants" Plot: HOME — Bellamy (Morley) leads the charge investigating a potential way home. Meanwhile, Clarke (Taylor) and Madi (guest star Lola Flannery) deal with the new, uncertain threat to their home.
The Season 5 Plot: Over the last four seasons The 100 have fought to survive against unimaginable odds, only to see the world end for a second time. Season five begins six years later, with our heroes still separated: Bellamy's team in space, Clarke on the ground, and hundreds trapped in the bunker below. But when a massive prison ship descends upon the last survivable place on earth, The 100 must come together to reclaim their home.
As two armies converge on one valley, alliances will shift, friends will become foes, and the march to war threatens to destroy all that's left of the human race. Can our heroes break the cycle, or is humanity doomed to repeat the past? In this epic battle for survival, one thing is certain: there are no good guys.
More on The 100 Season 5: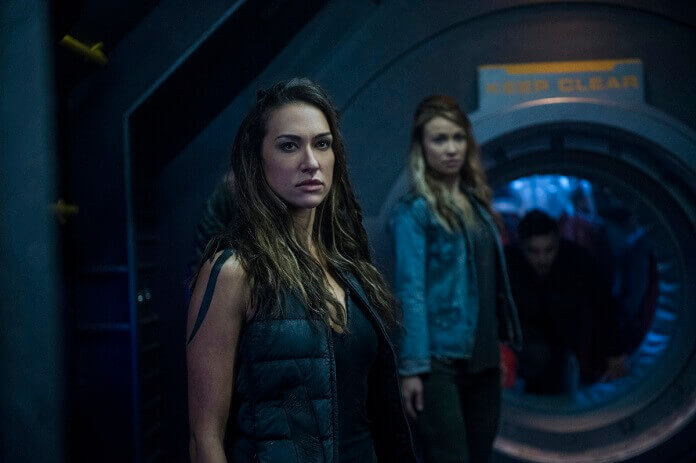 Season 5 Episodes Guide: