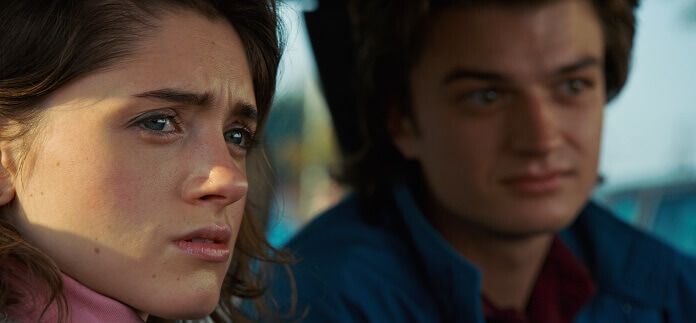 Netflix's critically acclaimed original series Stranger Things returns for a second season on October 27, 2017. Among the series' returning stars is Joe Keery who's reprising his character, Steve Harrington, on the much-anticipated second season. Keery was among the Stranger Things cast members who participated in the show's panel and press interviews at the 2017 San Diego Comic Con. Although Keery was careful not to give away any potential spoilers, he did offer a little insight into what's going on with Steve in the upcoming season.
Where is Steve when season two picks up?
Joe Keery: "Season two picks up a year after the events that we saw last year, so… Man, I can't really give too much away, honestly."
When you made the first season you had no idea how people were going to react to it. What is it like going into a second season? Is it more pressure or more freedom and relief?
Joe Keery: "Well, we can't do the same thing twice. People love season one because it's season one, and if you make season two like season one…season two isn't season one so you have to keep the things that people really loved about the show but also do some things different. I think that the way that they've gone about it by making it a little darker, a little clunker in a good way, it'll be exciting for people and it'll feel different but it's also the same show that they fell in love with, I think."
So, what were you gratified that fans picked up on in the first season, like things that fans related to about your character?
Joe Keery: "I guess I'm just glad that there was a conversation about whether my character was an a**hole or not. Which is debatable. He does things that are bad; he does things that are good. It ends in a certain way, so I think no person is one-sided. Everybody does good things and bad things. So, the fact that I could create someone who was complicated in a human way and got people talking, I guess that's a good thing. It's gratifying to me."
Is he reformed in any way for season two?
Joe Keery: "He's changed. I think he's learned from his ways and his experiences from the first season. But he's in no way master of much. He's learning still a fair amount."
You said it's going to be darker but season one was already fairly dark. What are some areas where there's room to get darker?
Joe Keery: "I think when I was a teenager that was not like a great time (because) you're changing so much, so all these kids are really on the cusp of becoming young men and young women. So, that aspect of being a teen and being uncomfortable kind of in your own skin, I think kind of sets the tone for us a little bit weird to start with. And then the sci-fi element provides a little bit more darkness."
Watch the full Joe Keery Stranger Things interview:
Stranger Things Season 1: A love letter to the '80s classics that captivated a generation, Stranger Things is set in 1983 Indiana, where a young boy vanishes into thin air. As friends, family and local police search for answers, they are drawn into an extraordinary mystery involving top-secret government experiments, terrifying supernatural forces and one very strange little girl.
Stranger Things Season 2: It's 1984 and the citizens of Hawkins, Indiana are still reeling from the horrors of the Demogorgon and the secrets of Hawkins Lab. Will Byers has been rescued from the Upside Down but a bigger, sinister entity still threatens those who survived.
More on Stranger Things Season 2:
– Dacre Montgomery Interview
– Natalia Dyer Interview
– Duffer Brothers Interview