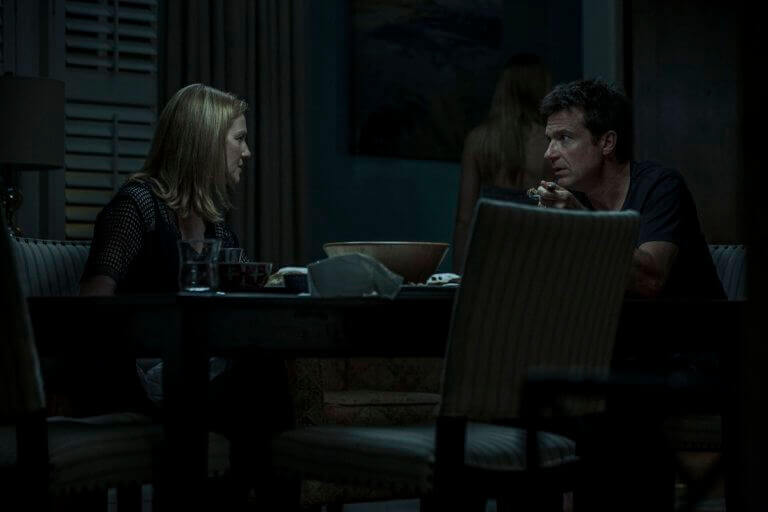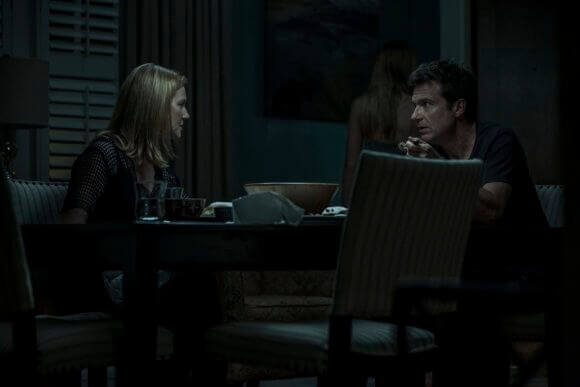 Netflix debuted what's gone on to become one of their most popular original dramas on July 21, 2017. Ozark starring Jason Bateman (Marty Byrde) and Laura Linney (Wendy Byrde) is addictive television viewing and perfect binge-watching material. With people now sticking near home to help stop the spread of COVID-19, it's a perfect time to catch up on the series for those who've somehow missed the boat.
Season one episode one begins with financial advisor Marty Byrde watching a video of his wife cheating on him. He's watching the video while simultaneously talking to what could potentially be new clients. Soon after, Marty goes home to have dinner with his family – wife Wendy, daughter Charlotte (Sofia Hublitz), and son Jonah (Skylar Gaertner). Marty makes no move to mention to his wife he knows about her affair and continues to act as if all's fine with the family.
After Marty watches the video again of his wife, he decides he needs to leave the house and get some air. While out we're given the illusion that he's with a prostitute, but actually it was only his imagination. During this time his business partner Bruce Liddell (Josh Randall) calls saying that it's urgent they meet. Marty reminds him it's the middle of the night but Bruce simply replies, "Del is here." Bruce needs Marty to meet him at the warehouse ASAP.
When Marty arrives, it's then we learn he and his partner are in business laundering money for a drug lord by the name of Camino Del Rio – nickname "Del" (Esai Morales). When Marty shows up, he sees Bruce, Bruce's fiancée, and the owner of the trucking company Hanson Sr. (Clayton Rohner) and his son Hanson Jr. (Eric Mendenhall). They're in business with Del, as well.
Del begins to tell them a story about how his aunt used to work for his father at their grocery store and how one day his aunt stole from his father. He asks each of them what his father should do. Marty gets mouthy with Del, stating he believes he's using this to intimidate them.
Del orders Bruce's fiancée into the bathroom. Soon after, Del shoots through the closed door of the bathroom killing Bruce's fiancée and proving he's not just intimidating them. Del asks again what his father should do about his aunt stealing from him. He reveals someone has been skimming money from him. $5 million dollars is missing.
Bruce, Hanson Sr, and Hanson Jr. all suggest his father should give the aunt another chance. Marty's spared answering when Del takes them outside and makes them get on their knees. Del shoots each one in the head but when he gets to Marty, as a last-ditch effort to save his own life Marty begins to ramble about the Ozarks.
Marty pulls out a promotional flier and begins to tell Del there's a way he can make back his money. Marty claims there's good potential for laundering money there. He assures Del if he can take his wife and kids and move to the Ozarks, he could make $500 million in five years.
Del seems interested in what Marty's saying and gives him permission to move there with his wife and kids. However, Del's only willing to give Marty a few days to produce the $8 million Bruce stole. On top of that, Del tells Marty he'll prove his claim by laundering $8 million in three months.
Marty returns home and lets Wendy in on what's going on. (Apparently, she knew he was laundering money.) She, understandably, is not happy about the move. Marty instructs Wendy to put their house on the market and begins to liquidate his firm.
While Marty's going around trying to collect the $8 million that he must come up with for Del, Wendy talks to her lover, Gary "Sugarwood" Silverberg (Bruce Altman). During her visit, Wendy explains everything that's going on. He convinces her to empty out her joint bank accounts with Marty and leave him.
Marty meets with his private detective – the one who's been following Wendy and getting all the dirt. He tells Marty where Gary lives, and Marty drives over to retrieve his wife and the money she took. Unfortunately, Del found out before Marty did and showed up first to Gary's high-rise apartment. When Marty gets out of his car and begins walking towards Gary's building, Gary lands on the ground in front of him clearly dead from the fall, courtesy of Del. Marty backs up, gets in his car, and drives away.
Del rings up Marty while Marty's driving away from the scene. Del asks, again, "What should my father do?" Marty replies, "Fire her. It's not the first time she stole from you. It's the first time you caught her."
For some reason, Wendy's spared by Del and returns home to Marty.
Marty meets with Del to give him his money but is forced to inform him he was short by $6,950. He offers to give Del his minivan to make up for the shortage. Del buys it from Marty and then leases it back to him so he and his family can drive to the Ozarks.
Del tells Marty, "Now, I want you to take my $7,973,000 with you to Missouri and clean it." Marty replies, "The other day you asked where is my $5 million and Bruce and the Hanson kid took eight." Del says, "You were right; I was fishing. I didn't know they stole a damn thing."
We learn the FBI is now involved and are discussing what Marty could be up to. With Bruce missing and Marty up and leaving Chicago, it's not looking good for Marty.
The first episode of the series ends with the Byrds on their way to the Ozarks.
Thoughts on Ozark Season 1 Episode 1:
The very first scene with Marty watching a sex tape of his wife while talking to potential clients was right away a "what the heck" moment. As the episode went on and we found out about what he really does for a living, it was a fascinating twist and an interesting premise for a show. Here we have this guy, who seems like an average man – a nice house, a solid career as a financial advisor, good-looking wife, and two kids – but obviously nothing is what it seems to be. The episode did a good job of giving viewers an idea of what's in store.
Jason Bateman did an impressive job portraying Marty, a family man who's dipped his toes in criminal activities. We haven't seen him in a more serious role in a while and it's interesting to watch him bring Marty to life. The rest of the cast's also terrific and the ensemble come across as a believable family.