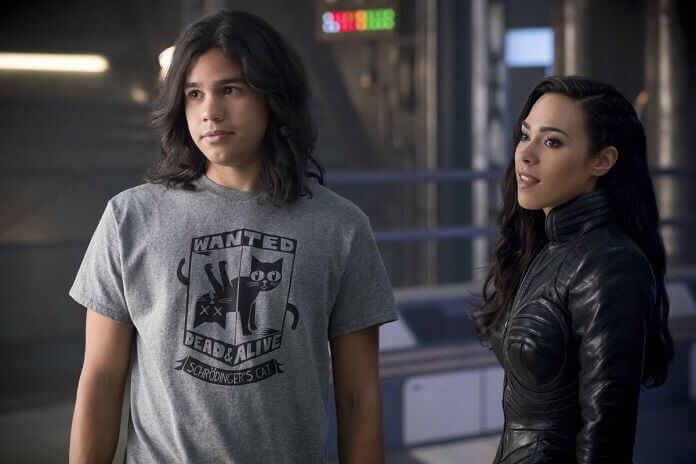 The CW's The Flash season four premieres on October 10, 2017 with an episode titled "The Flash Reborn." The new season begins with the team having to deal with Barry's disappearance into the Speed Force and during our interview at the 2017 San Diego Comic Con, Carlos Valdes teased Cisco will be trying to free Barry (Grant Gustin). Valdes also discussed Cisco's relationship with Gypsy and his evolution into a superhero.
How is Cisco handling it without his partner, Caitlin?
Carlos Valdes: "More gracefully than I anticipated. I mean, a lot can happen in six months and that's exactly where this season picks up is six months after the disappearance of Barry. Yes, he's very optimistic. He's out in the field with Kid Flash trying to keep the city together. Unfortunately, they haven't been doing as good a job as Barry did by his lonesome. In light of that, the team concludes it's not the same without Barry. I wouldn't be surprised if Cisco had some things up his sleeve in regards to getting Barry back."
Is Cisco a full superhero at this point?
Carlos Valdes: "Yes. He even goes as far as to call the team, in a somewhat cheeky way, Team Vibe at a certain point. So, you can look forward to that."
Does being a superhero suit him or does he struggle with that? Is he better as the backup?
Carlos Valdes: "I think Cisco's fate throughout this whole show is constant growth, you know, because he's a kid. He's a grown ass 20-year-old man, but in here he's a kid. He's optimistic. He believes in the best in people and he's irreverent. In the least appropriate situations, he finds a way to poke fun at things. So, yeah, it's constant growth for Cisco. I think he's still learning how to hold his own, but definitely at the top of season four I think he's more in control of his powers than he was previously."
Now that he has a connection with Gypsy, does that mean there's more romance for him in season four?
Carlos Valdes: "Thank you! This is my biggest talking point today. The relationship with Gypsy is definitely going to continue and get a lot more involved. And as their relationship gets more involved, as Cisco wants to take it to the next level, he's going to encounter some new characters that are going to make that very difficult for him."
The show started out as one of the brighter spots in the DC universe but it feels like it's gotten really dark. Is that feeling shared?
Carlos Valdes: "Absolutely. I think it's shared unanimously among the cast and among our creative team as well. So much so, actually, that the show in and of itself has collectively decided to go in a much lighter direction. I think the writers understand what made the show special as it was, especially in the first season, was that levity, was taking these extraordinary circumstances and poking holes in them and making them light but also believable and grounded. So, I think we're definitely going back to those roots and actually taking the levity note even further."
Will Cisco still be coming up with the nicknames for the villains this season?
Carlos Valdes: "I mean, Cisco will always be the name dude. That's like a law in our universe and if anybody tries to subvert that, he gets angry. But, yeah, Cisco's going to keep doing his one-liners. I think what's fun about playing this character, honestly, is when you get to be out in the field and fighting and take that levity out to these ridiculous situations. But, yeah, I also enjoy that everybody else gets the chance to be a little funnier this year too."
How does Cisco feel about Iris being in charge of the group?
Carlos Valdes: "I think somebody has to be in charge and within the six months of Barry being gone, Iris really steps up to the plate and takes the mantle. You're even going to notice changes at S.T.A.R. Labs a little bit, actually commandeers the ship so to speak. So, it's really exciting."
More on The Flash Season 4:
– Grant Gustin Interview
– Danielle Panabaker Interview
– Candice Patton Interview
– Todd Helbing Interview
– Tom Cavanagh Interview
– Keiynan Lonsdale Interview