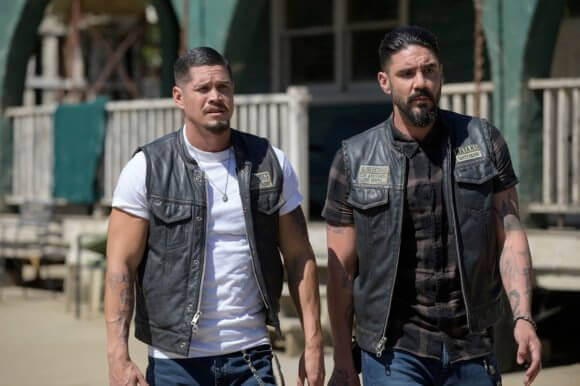 FX has officially announced Mayans M.C., the Sons of Anarchy spin-off, will return for a third season. The network made the announcement on the eve of season two's over-sized finale set to air on November 5, 2019 at 10pm ET/PT.
The renewal comes hot on the heels of the news series creator Kurt Sutter (Sons of Anarchy, Bastard Executioner) and FX have parted ways. Series co-creator and executive producer Elgin James will take on showrunner duties and guide the series for its third season.
"We're happy to continue telling the story of Mayans M.C. with our partners at Fox 21 and excited that Elgin James has earned the opportunity to become the series' showrunner," stated Nick Grad, President, Original Programming, FX Entertainment. "Kurt Sutter identified and chose Elgin as his partner on the show from the outset and Elgin has been instrumental to the success of the series, leveraging his experience and creative vision to make Mayans M.C. with this incredible cast, crew and creative team."
"Keeping this vibrant series strong is a huge priority to everyone at Fox 21 Television Studios, FX Productions and of course FX, which has been a spectacular home and platform for both Mayans M.C. and Sons before it," said Fox 21 TVS President Bert Salke.
According to FX, Mayans M.C. season two ranks sixth out of 172 cable scripted shows among viewers ages 18 thru 49. The second season's been averaging 4.6 million viewers.
The Season 2 Plot:
Mayans M.C. is the next chapter in the award-winning Sons of Anarchy saga. Set in a post-Jax Teller world, Ezekiel "EZ" Reyes (JD Pardo) is a prospect in the Mayans M.C. charter on the Cali/Mexi border. Once the golden boy with the American Dream in his grasp, EZ is trying to reconcile with his brother "Angel" (Clayton Cardenas) while searching for the truth behind their mother's death. Meanwhile, their father "Felipe" (Edward James Olmos) is struggling to lead his sons down a righteous path.
The series also stars Sarah Bolger, Michael Irby, Carla Baratta, Antonio Jaramillo, Raoul Max Trujillo, Richard Cabral, Danny Pino and Emilio Rivera.